Valentine's Day, one of the most eagerly awaited holidays of the year, is upon us. For many businesses, it's also the busiest time of the year as the day of love is also the 4th largest spending holiday. Numerous people around the world celebrate Valentine's Day. In the US alone, 55% of adults made plans to celebrate Valentine's Day last year, according to the National Retail Federation. Jewelry, candy, clothing, flowers, and an evening out are the most purchased during this occasion.
Esty has launched this report presents a number of interesting insights to help you attract customers this Valentine's season based on its search and sales data, industry research, and more.
Excerpt From the 2019 Valentine's Trends:
Valentine's shopping on Etsy begins in December, picks up in January, and peaks the first two weeks in February.
Searches for valentine cards peak the first week of February.
60,000+ searches for "garnet" between January 1 and mid-February last year and 40,000+ searches for "engagement ring" in the six weeks before Valentine's Day last year.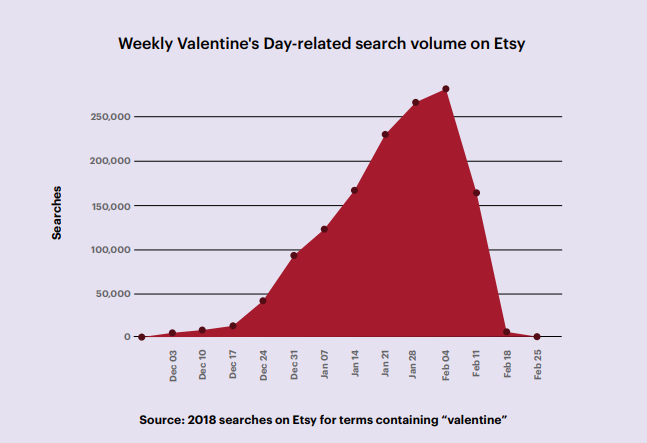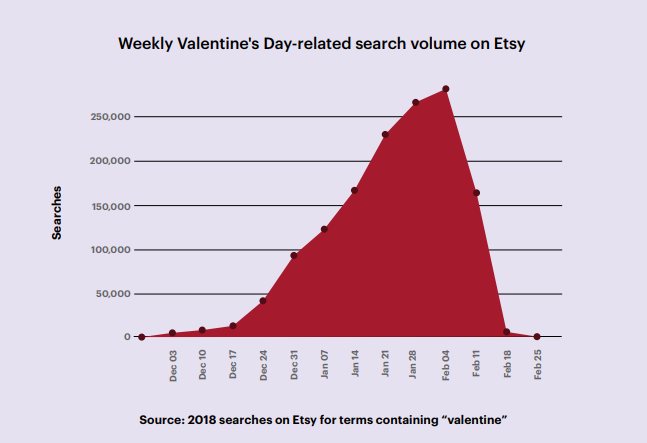 Content of the "Marketplace Insights: 2019 Valentine's Trends" Report:
Valentine's Day at a Glance
The Big Picture
Key Timing
Cross-category Trends to Watch
Category Trends
Paper & Party Supplies
Home & Living
Clothing & Accessories
Jewelry
Craft Supplies & Tools
Putting Trends Into Action
Number of Pages:
Pricing:
Methodology:
Data in this study is based on Etsy search and sales data, industry research, and the themes Etsy plans to promote to Valentine's buyers this year.