With 331.4 million users worldwide in 2021, Snapchat Generation has stepped up to be the change-makers they believe the world needs. Moreover, The Snapchat Generation expects to have a two-way relationship with their favorite brands.
Not only that but also, As a result of the pandemic, the Snapchat Generation has a renewed appreciation for friends and family and will carry this deep need for connection through as a defining characteristic.
Who Is the Snapchat Generation?
First things first, before getting through this report let's get to know more information first.
Based on the report, In the US, the Snapchat Generation is 2X more likely to be Black and almost 3X more likely to be Hispanic or Latin X than older generations. 3 out of 4 in the Snapchat Generation say being inclusive describes them and are more likely than non-Snapchatters to say they and their friends are inclusive of people who are different. The previous result because they're diverse and value inclusivity.
Also, because they are wise and worldly, there are 8 out of 10 who say they are informed about world events and news. They are 30% more likely than non-Snapchatters to say that they volunteer, they give back through charity, and roll up their sleeves to drive social change.
Moreover, this generation likes to be themselves online.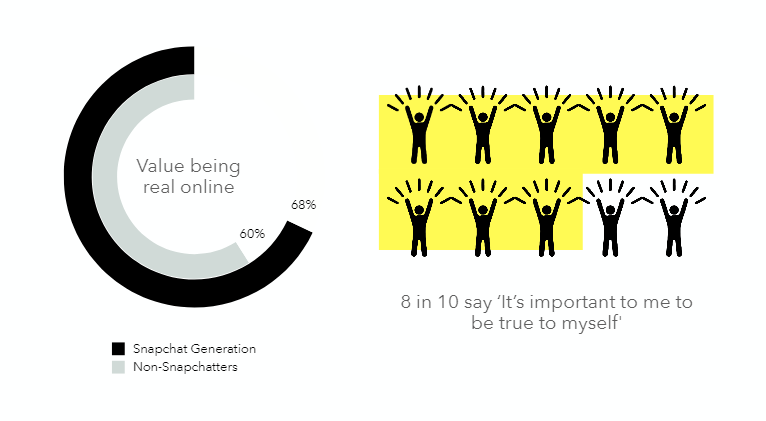 The Snapchat Generation Is Comfortable Having Uncomfortable Conversations
When it comes to discussing "taboo" topics, countries in Europe are the most open to discussing them. Even in the least open countries, a majority of the Snapchat Generation is open to discussing each topic.
Moreover, Even in the least open countries, more than half are open to discussing difficult topics. The following chart shows countries most open to discussing vs least open.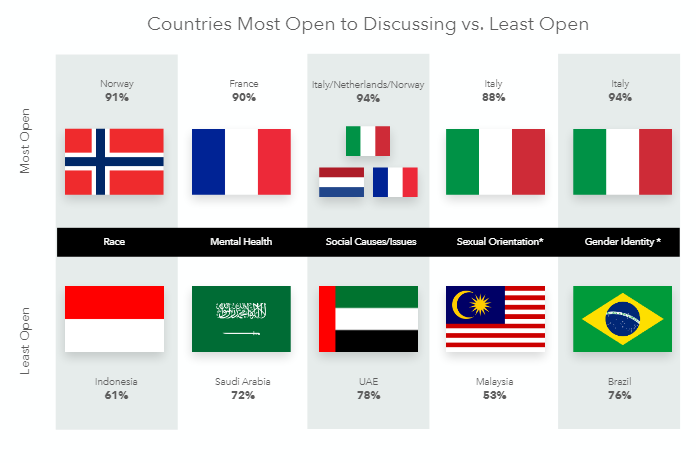 According to the chart, the most open to discussion, Italy/Netherlands/Norway comes in first place with a percentage of 94%.
Followed by Norway with a percentage of 91%, and then France 90%.
On the other hand, the least open to discussion is Malaysia with a percentage of 53%.
Followed by Indonesia 61%, then Saudi Arabia with a percentage of 72%.
Brazil comes before last place with a percentage of 76%.
The least open country to the discussion is the UAE with a percentage of 78%.
Make sure to check the full report here.
The Table of Content of " Say Hello to the Snapchat Generation" Report:
Who is the Snapchat Generation?
How do they Communicate?
How do they Shop?
How do they Relate?
How do they Play?
Appendix
Number of Pages:
Pricing: