Facebook's Cambridge Analytica crisis raised issues about privacy and integrity and users began to question the value networks provide and seek more meaningful ways to engage. As a result, a radically new social paradigm is emerging and social media users asked to be treated like individuals, not demographics.
The Hootsuite's report investigated the five key social media trends for brands to watch and adapt to in 2019 with corresponding brand examples and guidelines for implementation to ensure that all trends are both specific and actionable. The five trends are intended to be of value to front-line social media practitioners and leaders alike.
One of the most important Social Media trends Hootsuite shows, is that stories require a major shift in focus in 2019 for most of brands as 64% of respondents have either implemented Instagram Stories into their social strategy or plan to do so in the next 12 months.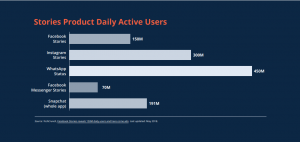 The Content of "Social Media Trends 2019″ Report:
Executive Summary.
Methodology.
Trend 1: Rebuilding Trust – Brands get human as the circle of trust on social media tightens.
Trend 2: Storifying Social – Content teams adapt as Stories offer new formats for sharing.
Trend 3: Closing the Ads Gap – More competition on paid social forces marketers to up their game.
Trend 4: Cracking the Commerce Code – Improved social shopping technologies (finally) fuel sales.
Trend 5: Messaging Eats the World – Customers demand better 1:1 social experiences.
Appendix: Hootsuite 2019 Social Trends Survey.
Number of Pages:
Pricing:
Methodology:
Data was driven from a survey of 3,255 Hootsuite business customers, from large enterprises to small agencies. The survey was conducted during the third quarter of 2018. The results were supplemented with insights from primary interviews with dozens of industry specialists, as well as published reports and data from Edelman, Gartner, GlobalWebIndex, Forrester, Econsultancy, Kleiner Perkins, We Are Social, and others.