If you have dreams of starting an ecommerce business, it's easy to quickly become discouraged. The upfront cost, the best time to launch, and a legion of details make it seem as if your business will never become established, let alone successful.
Actually, dropshipping is one of the best ways to start a business nowadays. It is extremely easy to start, and you can start with just a computer and a little bit of money, on the other hand dropshipping is an extremely flexible career path.
If you do not know what is dropshipping, then this guide is for you.
Do not skip a chapter, and continue reading.
What Is Dropshipping?
Dropshipping is a retail fulfillment method where a store does not keep the products it sells in stock. Instead, when a store sells a product, it purchases the item from a third party and has it shipped directly to the customer.
As a result, the merchant never sees or handles the product.
33 percent of online stores use dropshipping as a fulfillment model.
Dropshipping is great for entrepreneurs because it doesn't demand as much as the traditional retail model.
The 5 Benefits of Dropshipping:
Easy to start.
Easy to manage.
Easy to grow.
It does not demand much capital.
Flexible.
How to Choose an Ecommerce Platform?
After managing everything with your business, you want to succeed and this means making sales. Keep in mind that if you have made it this far, you have gotten a lot of the administrative stuff out of the way, and you are ready to start building your actual store.
The sales platform in which the entire sales campaign is built and it is the channel that is used for selling the product.
Examples on sales channels:
Shopify store
A seller account on a product site like eBay and Amazon
A dropshipping website of your own
We cannot neglect the importance of the sales channel as it is necessary to dropshipping business. How you sell is determined by the platform you are using. Not only that but bear in mind that your target audience and how you reach them will be dependent on the sales platform you choose, besides you will be subject to the flexibility or lack of flexibility of your channel.
To sum this up, it means that every sales platform has its own pros and cons, and you are exposed to too many options out there. However, at the start, you might want to start with one sales platform only.
A Focus on Using Amazon as a Sales Platform
Diving into more details about Amazon, one of the biggest online marketplaces in the world and a hotspot for dropshippers. bear in mind these pros and cons when using Amazon:
Pros of Dropshipping on Amazon:
Your products are exposed to a wide base of audience
It is trustworthy
You get access to Fulfillment by Amazon (FBA)

However, Amazon Dropshipping has cons as well which are:
The listing fees are substantial
The competition is crazy
The payment situation is not the best
Related Guide: How to Grow Your Amazon Business From $1M to $10M
The Table of Content of "The Guide to Dropshipping 101: Ecommerce Without Inventory":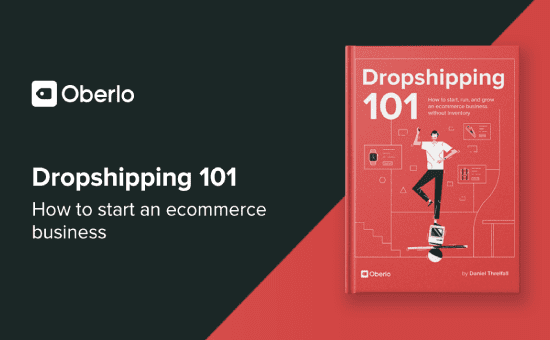 Introduction
How to Use This Guide
What Is Dropshipping?

Benefits
Disadvantages
Is dropshipping for you?
The Dropshipping process

What You Need To Start Your Dropshipping Business

Value
The right niche
The right products
An incorporated business
Supplier(s)
A game plan

Choosing Your Niche

How to evaluate dropshipping niche ideas
Niche evaluation in action

Choosing the Right Products

The basics of selling products online
Finding high-demand products
Analyze your competitors
Wrapping it up

Making Your Business Official
Choosing a Sales Platform

Amazon
eBay
Your own website
How to choose a sales platform

Branding

What is branding?
Logo design
Website design
Copywriting

Finding & Dealing With Suppliers
Marketing

Buyer personas
Low-cost strategies
High-cost strategies

Growing Your Dropshipping Business

Dealing with problems
Managing customer support
Using multiple suppliers
Managing inventory
Building a team

Conclusion
Number of Pages:
Pricing: