Do you know that a quarter of Americans plan to shop online during Halloween and the total expected spendings by Americans during Halloween marketing season 2019 is $8.8 billion?
So, how can you stand against your competitors during this scary holiday and get your slice of the cake?!
Just with a little bit of work and creativity, you can kick-start your small business' marketing campaign just in time for the holiday season.
Digital Marketing Community, the largest and first integrated community for digital marketing professionals worldwide, is thrilled to share with you theses tips and tricks would learn you how to engage—and terrify— your audiences in fresh and unexpected ways.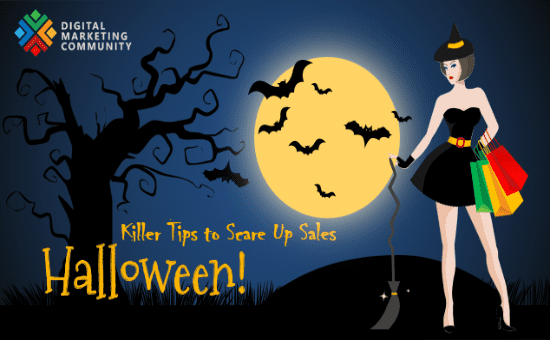 A Brief of the Tips and Tricks You Should Consider in Your Halloween Marketing Campaign:

37% of Americans planned to start their Halloween shopping before October, that's why you need to prepare and start Halloween promotions as early as you know that your customers will start responding.
never neglect social media during Halloween marketing season; it's a must for Halloween. Focus more on Pinterest and Facebook as they are ranked as the main social media platform that gives inspiration to Halloween shoppers.
Focus on the power of #hashtags as having at least one hashtag can increase engagement with a rate of 12.6%.
If your business is retail, bundle products together at a slight discount and advertise them as "the Halloween unbelievable deal" Halloween is a prime time of year to dress up and indulge in a little tomfoolery, but it is also a great time to up your marketing game.
Related: Infographic: Tips & Tricks to Avoid a Halloween Marketing Horror Story
What's in the "Killer Tips to Scare Up Sales This Halloween Marketing Season, 2019" Guide:
Being the Early Bat
Halloweenize Your Products/Services
Design a Halloween-Themed Logo
Send Halloween-themed Emails
Create a Spooky DIY Video
Go Social
Offer Scary Deals and Discounts
Never Forget the Power of Hashtags
Host a Special Event or Competition
Think Out of the Grave
Number of Pages:
Pricing: