Facebook has made every website except Facebook even more old-fashioned by launching Facebook Shops, a virtual shopping area where store space is free.
Not only can Facebook users bounce directly from their feed to your checkout, but they can connect with you and your virtual shop clerks through Messenger, WhatsApp, or direct messages.
Without further ado, let's get through this small business guide and know how to sell on Facebook Shops.
The Importance of Using Facebook Shops
Online shopping has become more crucial than ever and especially for the survival of small businesses. Facebook Shops are handy and here to help small businesses to put their products in front of billions of users.
If you're still not sure about taking this leap and sell on Facebook Shops, you might need to consider that only around 1/3 of specialty independent retailers have an eCommerce-enabled website.
There are more than 160M businesses use Facebook.
A high percentage of 78% of American consumers have discovered retail products on Facebook.
Facebook has over 2.6B active monthly users.
If you're not convinced yet, take a look at the following: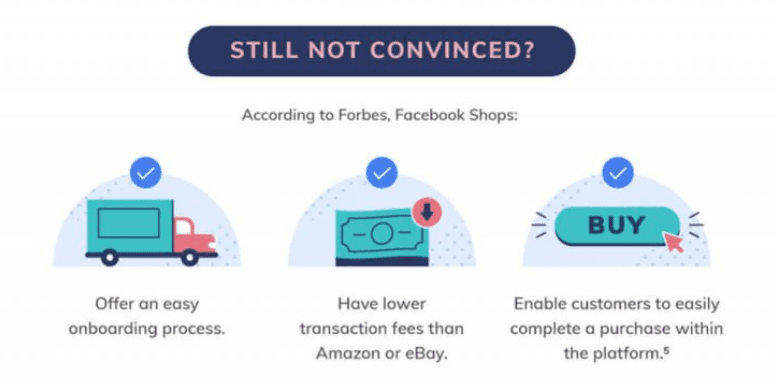 The Top 5 Tips for Creating Great Product Listings:
So, now you have your shop set up and you are ready to sell on Facebook Shops, there are still some tips you need to consider in order to flourish.
Here are the top 5 tips for creating product listings on Facebook:
Be authentic and use your brand's voice: Here is the pro tip, you need to be sure to include key information that sets your product aside from the competition.
Tease a special offer in the product name: Make sure to include your brand name in order to help customers easily identify your products.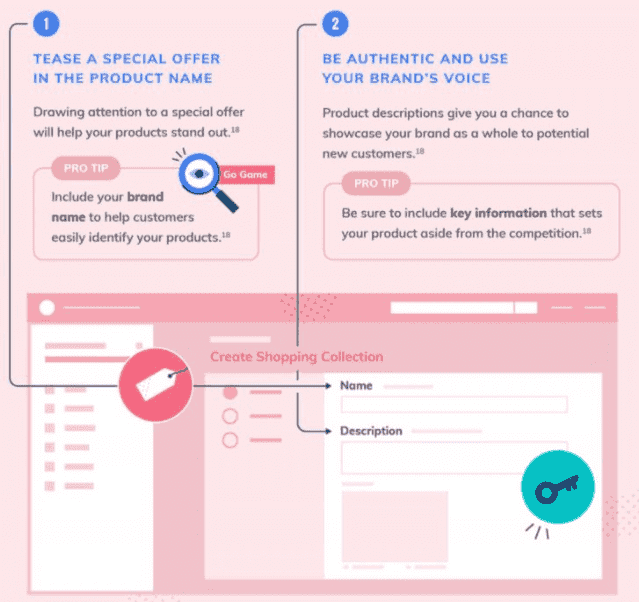 Make sure to plan your images for a mobile-first view: Use unique, engaging images rather than stock photos.
Keep product images simple and clean: make sure to have a consistent brand style across your product images to ensure consistency.
The last one is to make sure products are in line with Facebook's commerce policies.
Make sure to check the full "How to sell on Facebook Shops" guide and start boosting your business.
Whats's in "How to Sell on Facebook Shops: The Small Business Guide":
The Advantages of Facebook Shops
Getting Set-up with Facebook Shops
Why Use Facebook Shops for Business?
Before You Set Up Your Shop
How to Add a Shop to Your Existing Facebook Page
How to Set Up Commerce Manager
How to Manage Your Inventory in Catalog Manager
How to Create a Collection in Commerce Manager
How to Customize Your Shop
5 Tips for Creating Great Product Listings
How to Manage Orders in Commerce Manager
How to Promote Your Products with Facebook Collection ADS
Best Practices for Managing a Successful Facebook Shop
Sources
Number of Pages:
Pricing: