There is a lot to consider if you want to start your business and selling online. It requires a lot of effort and thinking from choosing a product to sell online or a service to provide, to growing your online presence. Along with, choosing a suitable platform for your online business and engaging with your target audience.
Keep on reading, as this guide provides everything about having your online business and the best ways to selling online, this guide is your way to thrive. Without further ado, let's get to the point.
How to Choose What Products to Sell Online?
We all agree that launching an online business/selling online is not as easy as it looks like and there is a lot to take into consideration before you begin to brainstorm the experience and design of an online store, or even think about your company's name, there is an important thing to consider which is choosing what products you will sell or what services you will offer.
This impacts every decision you will make to your business such as brand name, marketing, loyalty programs, shipping and fulfillment, and website design.
How to Choose Your Products?
We got to the important question, the answer is there are 3 things you should bear in mind when choosing a product:
Identify or create products that solve a problem: Your product or service does not necessarily need to be complicated or huge, it just needs to be effective. "If we tried to think of a good idea, we wouldn't have been able to think of a good idea. You just have to find a solution to a problem in your own life." — Brian Chesky, Co-founder of AIRBNB
Find products with branding potential: Your brand should speak to your potential customers in a way that both resonates and compels them to come back, that means you want to build loyalty based on audience identity. Solo Stove is an example about this tip, Solo Stove says "Solo Stove is focused on helping people reconnect to what matters most, and BigCommerce has helped us take that to the next level." John Morris, CEO at Solo Stove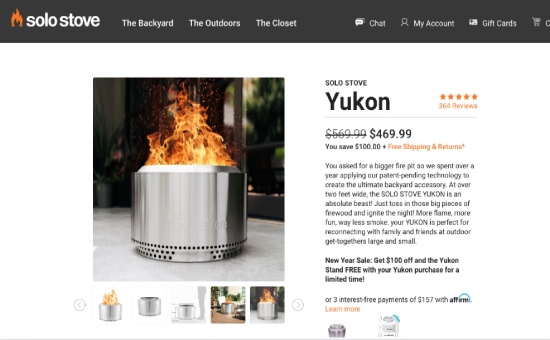 Find products which you and other people are fond of: For this one, find products that you or other people passionate about, the word "passionate" might be confusing but emotionally investing in a product, can better deliver its value and mission to the market, other than that, an emotional story will help you to be unique among your competitors.
The Top 5 Tips for Selling Online
So now you chose what product to sell or what service to provide, however, you still need to have a successful eCommerce experience.
No worries, we got you covered with these 6 tips from the experts.
Learn from the customers: When your business is growing, the feedback should increase and you must take it int consideration due to its importance. Small businesses are centered around the value of listening and engaging with your customers. Small businesses rely on customer insight and feedback.
Stay focused on your niche: Dan Kogan, CEO at 1Digital Agency shares what he believes small business owners should focus on as they grow their brand: optimize your products and services, focus on organic SEO growth as it drives trust, stay committed to your niche, so that you can stand out of the pact, and reinvest into digital marketing. Sales trumps all.
Deliver an unforgettable experience to your customers: If you do customer experience well it will boose positively in your brand awareness, traffic, and loyal customers to your online store. Kaleigh Moore, a freelancer at kaleighmoore.com, believes small business owners should put a priority on just that."Create memorable experiences for customers and go the extra mile. That effort still pays dividends."
Be time-efficient: This tip shall be always helpful, because if you don't have time for your business no one else would have. Alisa Chibnall, Owner & Web Strategist at Border7 shares these tips: "Use Hotjar to better understand site visitors and how they're interacting with your site, Keap for automation and personalizing your marketing, and Calendly for setting appointments and avoiding the back and forth of scheduling."
Think Omnichannel: Start developing an omnichannel strategy to build your brand awareness and provide more flexible options to your customers. Nick recommends small businesses to "have an omnichannel support strategy in place including a live chat tool. Monitor closely all your major social media channels and respond to clients and potential in a timely manner."
The Table of Content of "Scale Your Brand with the Complete Guide to Selling Online Guide":
Meet the author
Introduction
Chapter 1: How to Craft the best product and brand
Chapter 2: Evaluate market viability for your products
Chapter 3: How to conduct online market research
Chapter 4: Conduct a competitive analysis
Chapter 5: Online business laws for internet selling
Chapter 6: How to identify and analyze your target market
Chapter 7: How to source & Manufacture products
Chapter 8: Choosing the right eCommerce platform for your business
Chapter 9: Launch a profitable online store from scratch
Chapter 10: Driving traffic to your online store
Chapter 11: Small business shipping, fulfillment & returns
Chapter 12: Measuring success: Analytics
Chapter 13: 5 things to consider when scaling your online business
Chapter 14: Insights on how to achieve small business success
Summary
FAQs about selling online
Number of Pages:
Pricing: