COVID-19 has changed a lot of things around us and worldwide, of course, businesses have been affected as well. COVID-19 has impacted the B2B exhibitions industry in the USA.
According to The Center for Exhibition Industry Research (CEIR): "The persistence of COVID-19 and the uncertainty of whether events can take place in their scheduled destinations are forcing an increasing number of U.S. B2B exhibition organizers to either postpone their events to late 2020/early 2021 or cancel them entirely," noted CEIR CEO Cathy Breden, CMP, CAE, CEM. "This trend is devasting to an industry that contributed over $101 billion to the U.S. GDP last year.
COVID-19's Impact on The B2B Industry in the USA:
According to COVID-19's Impact on the B2B industry in the USA insights, 74% of those forced to cancel say the lack of clarity in knowing whether large group meetings will be allowed to take place at the scheduled time due to state and local lockdown orders prompted them to this decision.
Moreover, many organizers (69%) attribute the persistence of corporate 'no travel' policies and the impact they might have on participation levels as a reason for foregoing a 2020 in-person event.
The chart below shows that cancellations continue to grow and postponements hold steady: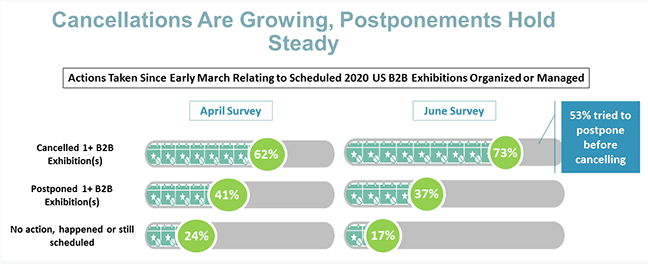 It is reported that 53% tried to postpone before canceling.
According to the chart, the cancellation percentage has seen an increase from April (62%) to June (73%).
However, the percentage of postponing an exhibition has decreased from April (41%) to June (37%).
The Top Reasons Why Exhibitions Are Forced to Cancel
There are many reasons why exhibitions are forced to cancel due to the current circumstances because of COVID-19.
The following chart shows the reasons why exhibitions are canceled due to COVID-19's impact on the B2B industry in the USA.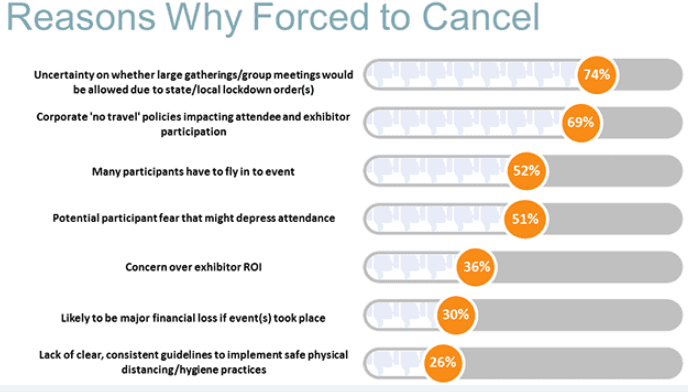 What tops the list with a percentage of 74% is the uncertainty on whether large gathering\group meetings would be allowed due to state\local lockdown order(s).
Comes next with a percentage of 69% is the corporate "no travel" policies impacting attendee and exhibitor participation.
In third place with a percentage of 52% is that many participants have to fly in to event.
Make sure to check the full insights about COVID-19's impact on the B2B industry in the USA.