Marketers do pay attention to when to post on social media platforms, it is recommended to know when to post because that is whenever your target audience is most likely are online to engage and interact with your content. A well-timed post can lead to more comments, shares, click-throughs, and definitely likes.
However, there are a variety of social media platforms with different purposes, therefore the timing to post will vary depending on your target audience, platform, and industry. For instance, posting on Facebook is not the same as posting on Twitter, and definitely both of these social media platforms are not the same as Instagram or LinkedIn.
Every social media platform has different audiences and their content varies, therefore the posting time will vary.
In light of that, talking about one important social media platform and that's LinkedIn. It is a social media platform full of professionals, it allows you to connect and build your professional portfolio, besides seeing the world and searching for new and suitable jobs. LinkedIn is suitable for fresh graduates, it is as well full of professionals who have been in business for decades.
When Is the Best Time to Post on LinkedIn? 
The chart talks about when is the best time to post on the professional social media platform, LinkedIn, and that is what marketers need to bear in mind while posting on LinkedIn.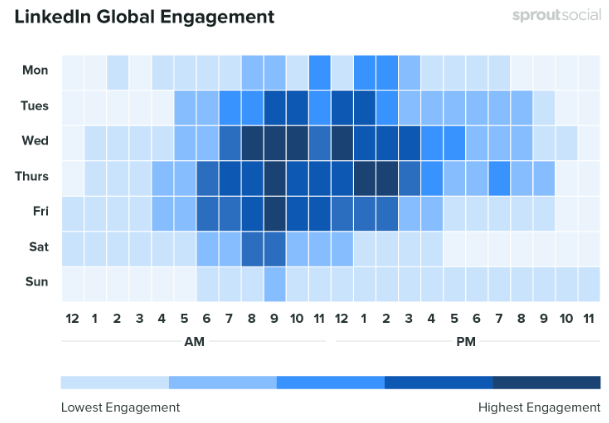 LinkedIn has a specific target audience than any other social media platform along with its focus on professional users of course.
LinkedIn is a perfect destination for lead generation tactics, besides B2B marketing.
In light of that, many LinkedIn users besides marketers have started to think outside the box and leverage unique strategies on the social media platform, like tapping into its rare potential for thought leadership and influencer marketing.
The Best Time to Post on LinkedIn 2020
Here are the insights you need to bear in mind when posting on LinkedIn:
The best days to post on Wednesday and Thursday
The best time to post is on Wednesday from 8 to 10 am and noon, Thursday at 9 am and 1-2 pm, and Friday at 9 am.
However, the worst day to post is on Sunday
Additionally, the most reliable engagement happens during the workweek, Tuesday to Friday, from 8 am to 2 pm.
On the other hand, engagement backs off outside of working hours, daily before 4 am and after 8 pm.
On the other side, Monday as well is also slightly lower on engagement.