Due to the COVID-19 outbreak, the economic confidence is down, spending habits have changed as well as a result of the COVID-19 pandemic.
Let's let the insights speak, let's get through eCommerce insights amid COVID-19.
7 in 10 Internet Users in Europe Expect the Economy in Their Country to Get Worse in the Next 6 Months
Of course, due to the changing circumstances, consumers' financial reality is hitting hard. According to the eCommerce insights amid COVID-19, in Q4 2019, a percentage of 19% of internet users globally expected the economy in their country to get worse in the next 6 months; by Q2 2020 this figure stood at 36%.
Moreover, in Europe, the picture is especially stark, as 7 in 10 internet users expect the economy in their country to get worse in the next 6 months.
Also, those expecting their personal finances to get worse has doubled in the same time frame from 10% to 20%.
The following chart shows the percentage of internet users who think -the economy of the country where they live\ their personal finances will get worse- in the next 6 months;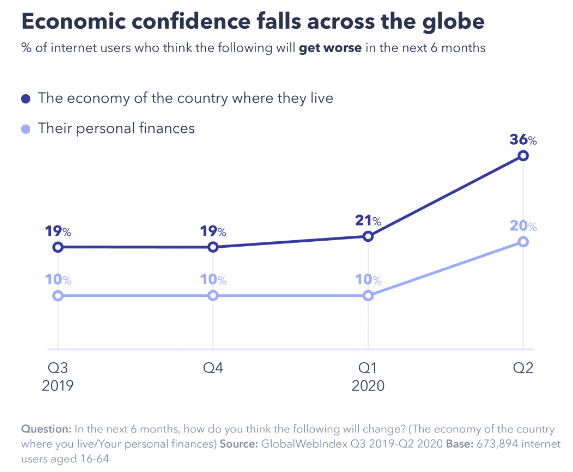 Based on that, countries all over the world are facing economic hardships, albeit to different extents.
Online Shopping is Accelerating, but Growth is Largely From Existing Shoppers
It is reported that, among those who didn't shop online pre-lockdown, 31% ave begun doing this during the COVID-19 lockdown besides planning to continue doing so afterward.
Moreover, in July 49% of all internet users across 15 countries mentioned that they plan to shop online more frequently once the COVID-19 pandemic is over, increasing from 43% in April.
However, the COVID-19 outbreak has unsurprisingly accelerated demand for eCommerce, however, what's more, interesting is understand where this growth is coming from.
Additionally, consumers in APAC, South Africa, besides Latin America were most inclined to say they'll shop online more frequently after the COVID-19 outbreak. Whereas, Europe and North America fall slightly behind. For example, only 28% of consumers in France say they will, compared to a high of 59% in India.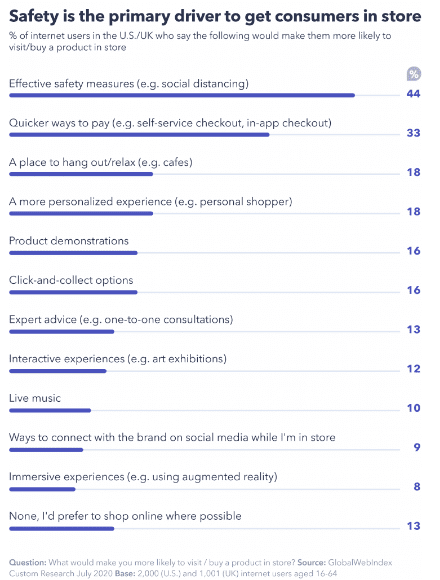 According to the eCommerce insights amid COVID-19, and due to the high safety precautions, internet sere s in the US and the UK mentioned the following reasons which will make them more likely to visit\buy a product in-store instead of buying it online.
44% of internet users said effective safety measures such as social distancing will make them buy a product from a store.
In second place and as reported by 33% of internet users is, quicker ways to pay for example self-service checkout, in-app checkout)
Two-thirds of internet users in the U.S./UK have started using contactless payment methods more because of the COVID-19 outbreak.
Check the full eCommerce insights amid COVID-19 here.