Omni-shoppers are the consumers who use technology for the full range of shopping experiences online from a desktop or mobile device, by telephone, or in bricks and mortar stores.
These shoppers are more demanding, social, connected, and convenience-oriented than ever before, Omni shoppers today benefit from retailers' multi-approach to sales via back-end technology.
It is not a typical retailing category, financial services lead the way when Omni shoppers identified the sectors they were most likely to access online.
Moreover, online shopping is now a big part of our daily lives, according to the latest data, the number of online shoppers in the US has been increasing year after year. It is expected that this year there will be 266.7 million digital buyers there. This number marks a 1.4% annual increase from 2021, and the number is continuing to grow.
In this post, we will provide previous data and new data in 2022 about online shopping categories and online shopping.
Take a glance at the most popular Omni-shoppers online shopping categories back in 2017:
Financial services are ranked as the most popular online shopping category for Omni shoppers with a rate of 29%.
Toys & games ranked as the second popular online category for Omni shoppers with a rate of 24%.
Consumer electronics comes next with a rate of 23%.
Create a beautiful online store wherever you are in the world without the need for designers and programmers and sell your goods faster with Ecwid!
The Top Shopping Trends in 2022:
Influencer marketing is an incredibly effective way to influence your opinion.
Gen Zers prefer to discover new products via social media however, they still like to make purchases in-store.
Millennials and Gen X like to discover new products by searching the internet and retail stores.
Millennials and Gen Xers like to discover new products on social media through sponsored content or ads.
Gen Zers like to discover new products on social media through short-form videos.
The most popular device for online shopping is the mobile phone.
When it comes to making a purchasing decision, rice matters along with other factors that might surprise you.
Get a close look at how to create an online store now with Systeme.io! Start your online business with all the tools you need. Systeme.io is easy to easy and it doesn't require a credit card!
The Online Shopping Categories 2022:
Here's a chart for the online shopping categories in 2022 worldwide: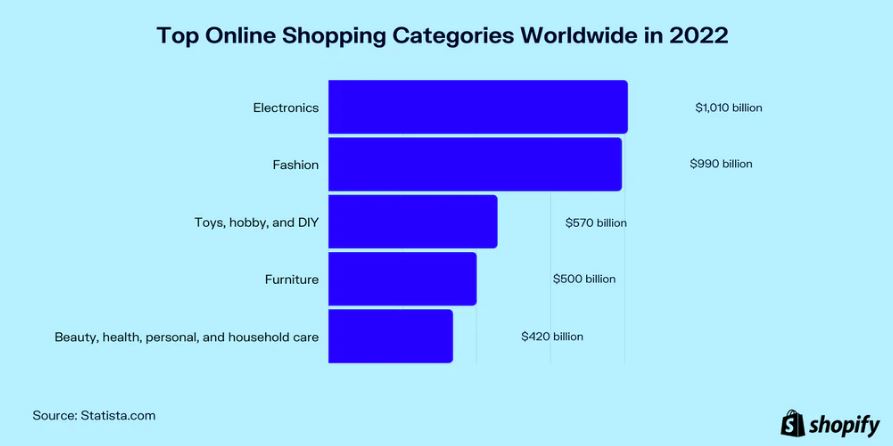 Based on the previous figure for the online shopping categories, electronics come in the first place with $1,010 billion.
Fashion comes in next with $990 billion.
As obvious, toys, hobby, and DIY comes in third with $570 billion.
Also, furniture comes in fourth place with $500 billion.
In the last place are beauty, health, personal, and household care with $420 billion.
Launch a successful online store on your own and join more than 20K successful merchants within minutes with ExpandCart.
ExpandCart is one simple platform to sell, ship, and market your products on the web, on social media channels, and through a mobile app with tons of built-in features!