Why are email analytics important? Because it is a method to track the way subscribers interact with your email campaigns. This way you can collect and analyze data for each email campaign in addition to the help of bulk email providers and also Google analytics.
Without further ado, let's dive deep into the report for further information.
Email Marketing Return on Investment
There is much made about how your return on investment should guide what you do. However, the problem remains that many brands cannot measure their email marketing ROI well.
The figure below shows that 70% of brands cannot measure their email marketing ROI well.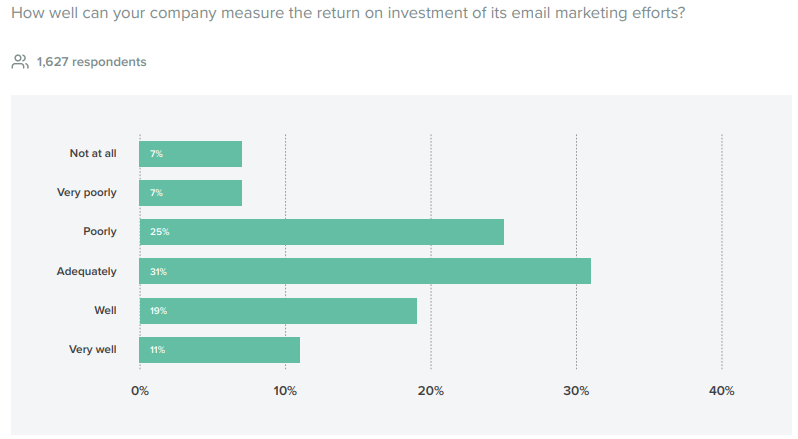 As shown 7% of brands cannot measure their email marketing ROI at all.
As well as 7% of brands that are very poor when it comes to measuring their email marketing ROI.
There is 31% of brands that are adequately able to measure their email marketing ROI.
Only 11% of brands are very well at measuring their email marketing ROI.
How to Maximize ROI With Advanced Email Analytics?
"We use Email Analytics to ensure our content is always relevant and above industry trends. Without Litmus, we would be flying blind on email design and engagement." Ady Porter, Virgin Australia
According to Litmus, brands that utilize Email Analytics generate an ROI of 45:1. That's 16% higher than the average ROI of brands that only rely on email insights provided by their ESPs.
Here are the top tips to maximize your ROI advanced email analytics:
Track forwards and prints: You need to find out how many times your email is printed and forwarded. You should identify trends with viral content, email sharing, and evangelist behaviors.
Discover where your subscribers open: In light of that, you need to learn which apps and devices your subscribers use most and optimize more effectively, this increases your overall email performance.
See duration of engagement: This means to check how long your subscribers spend reading your email. You should compare read rates by the device to identify key areas for optimization.
Pinpoint subscriber geolocation: this means to see the specific cities and countries where your subscribers are opening to make more informed design, personalization decisions, and send time.
What Influence Email Marketing ROI?
This is an important thing to talk about, and there are diverse factors that correlate with higher or even lower returns on investment for email marketing programs.
However, the chart below sums the factors that influence email marketing ROI (Regulatory environment, company size, list size, permission practices, email frequency per month, email preview testing, A\B testing frequency, dynamic usage, email team size, animated GIF usage)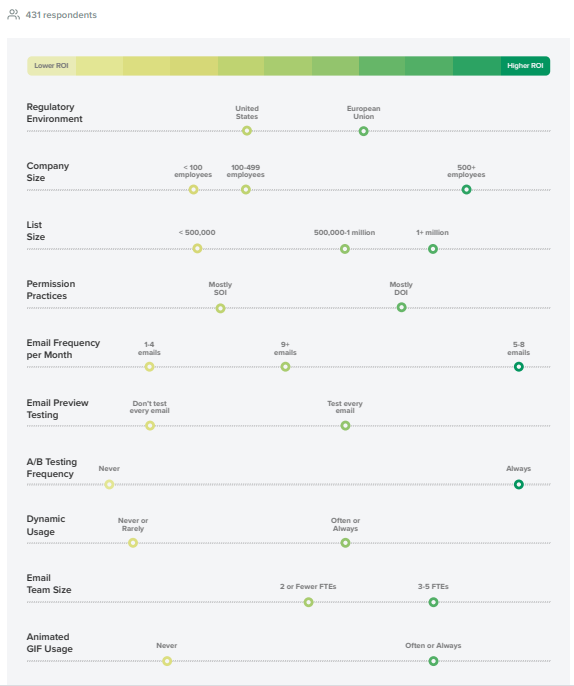 The Table of Content of "The State of Email Analytics Report":
The use of third-party analytic tools
Which metrics brands track and plan to start tracking soon
How brands use open and click data to manage inactivity
How deliverability tools affect visibility into blocks and blacklistings
Measuring email return on investment, plus the factors that increase it
Number of Pages:
Pricing:
Methodology:
All of this is made possible by the nearly 3,000 marketers who generously took our 2018 state of email survey and shared their insights with the industry. For a breakdown of the demographics of our respondents.