The COVID-19 pandemic has made a lot of things become a trend due to the lockdown. Online TV exploded due to the lockdown, however, has since colled off. Moreover, music streaming engagement continues to increase. But the real deal is gaming, it is now as common as watching TV.
Without further ado, let's see people's ways of entertainment in this report.
TV Trends to Watch:
According to the entertainment trends report, over the past several months, so much attention has been paid to the growth of online TV. Also, within these discussions, the term "cord-cutting" has been thrown around a lot and is often bundled with the death of broadcast TV.
The following chart shows that online TV is slowly eating up a greater share of overall TV viewing: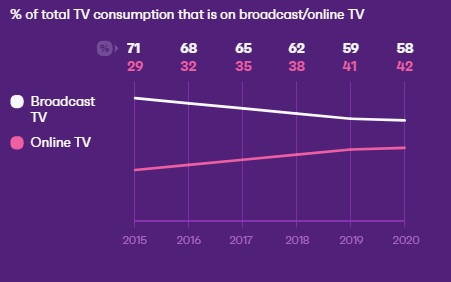 Anyhow, the majority continue to watch it on a regular basis: 83% of consumers said they watched live television on a TV channel each week in 2018. Despite the digital disruption, this figure has only dropped by three percentage points.
According to the entertainment trends report, the following chart shows that not all consumers are ditching cords: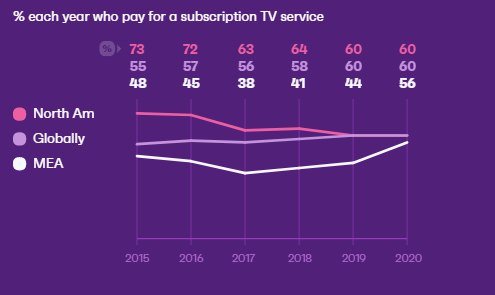 The Line Between On-demand and Live TV Is Blurring:
Based on the entertainment trends report, Among sports viewers in the U.S. and UK, 87% say they'd missed watching sports events during the COVID-19 outbreak.
Moreover, Netflix has been the latest to recognize the benefits of offering live content. The streaming giant has introduced a new live channel called Direct and is currently trialing it in France.
Also, According to Netflix, France was chosen because "traditional TV consumption is very popular" there. According to the entertainment trends report, 45% regularly watch back-to-back episodes from the same TV show in one go.
According to the chart, mobile is the most popular device for watching streaming services: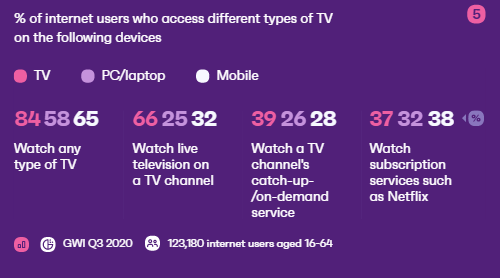 It is obvious that mobile is the device of choice, both for watching streaming services and second-screening. Since 2020, the portion of internet users watching streaming services via mobile has increased by 8% and as much as 27% in the U.S.
Download the entertainment trends report here.
The Table of Content of "The Entertainment Trends Brands Should Know " Report: 
Discover our data
Key insights
TV trends to watch
Music trends to listen out for
Gaming trends to play with
Social entertainment
Brand interactions
Appendix
Notes on methodology
More from GWI
Number of Pages:
Pricing:
Methodology:
All figures in this report are drawn from GWI's online research among internet users aged 16-64. We only interview respondents aged 16-64 and our figures are representative of the online populations of each market, not its total population. Note that in many markets in Latin America, the Middle-East and Africa, and the Asia-Pacific region, low internet penetration rates can mean online populations are more young, urban, affluent, and educated than the total population.