What has the power to transform business? Data collaboration when executed in a way that preserves privacy and enhances customer experiences at scale.
We can't deny the role that data collaboration will have to play in 2023 marketing successes as the industry navigates economic uncertainty, ever-evolving customer expectations, and new privacy legislation.
Let's discuss further details in this marketing data roundup!
Why Marketers Are Rethinking Their Approach to Data:
Customers expect a lot from brands such as recognizing them, knowing their interaction history, as well as anticipating their needs.
On the other hand, privacy regulations and the looming deprecation of third-party cookies have emphasized the need for a proprietary identity graph for most brands.
The chart below shows the CDP capabilities that are most important to meeting their customer data goals according to US CDP professionals. Let's check the percentage: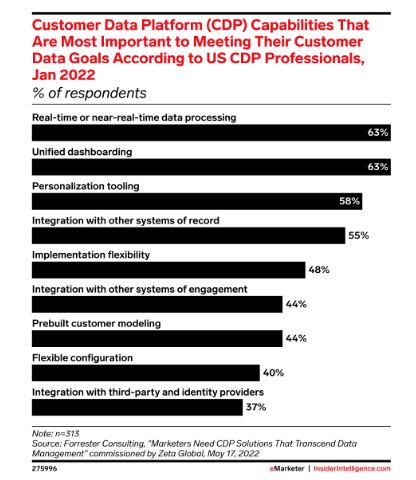 Moreover, this marketing data roundup will look at the growth in CDPs and clean rooms, and explore how leading brands like The Walt Disney Co. and General Motors (GM) are using first-party data to replace third-party cookies.
Google Delays Third-Party Cookie Sunsetting
According to Teads. 50% of US publishers feel the deprecation of third-party cookies could be an opportunity to differentiate via their own first-party data.
Also, Google is delaying the implementation of its plan to remove third-party tracking cookies from its Chrome browser yet again, until the second half of 2024.
Based on this marketing data report, right after the news broke, Google Privacy Sandbox vice president Anthony Chavez wrote that the advertising giant had received "consistent feedback" that stakeholders needed "more time to evaluate and test the new Privacy Sandbox technologies" before Chrome deprecated third-party cookies,
Not only that but also, Google said that it will extend developer testing for its Privacy Sandbox technologies and start allowing Chrome users to trial the new environment beginning in August.
There is so much to know in this marketing data report… Download it now and know the full story!
The Table of Content of "The Evolution of Marketing Data " Report:
Sponsor Message
Why marketers are rethinking their approach to data
Google delays third-party cookie sunsetting
How first-party data is replacing third-party cookies
Marketers begin shifting to first-party data
Why clean rooms are in vogue with advertisers, publishers, and vendors
How companies are managing their data strategies
Case study: CTV success relies on a first-party data strategy
Gain a competitive customer edge with data collaboration
CMO view: Marketing measurement is essential
Benefits of first-party data: Brands offering personalization without interfering with privacy
About this roundup
Number of Pages:
Pricing: