Music streaming has become very popular in all countries and among people. Streaming services make artists gain more money too, thanks to the technology of streaming, and streaming services such as Spotify, Apple Music, and SoundCloud.
Anyhow, Spotify strengthens its dominance in the streaming market. It is proven that in the US, Spotify has surpassed YouTube as the most popular and common streaming service.
Moreover, in the UK, Finland, and Denmark, Spotify is still the most popular streaming as well as getting more premium subscribers.
Music Streaming Insights in Some Countries 
Music has become an essential part of people's lives. A survey was conducted on the people in the US, UK, Germany, Denmark, Sweden, Norway, and Finland.
The charts below explain the percentage of people in different countries who stream or download music, don't stream or download music, and don't know.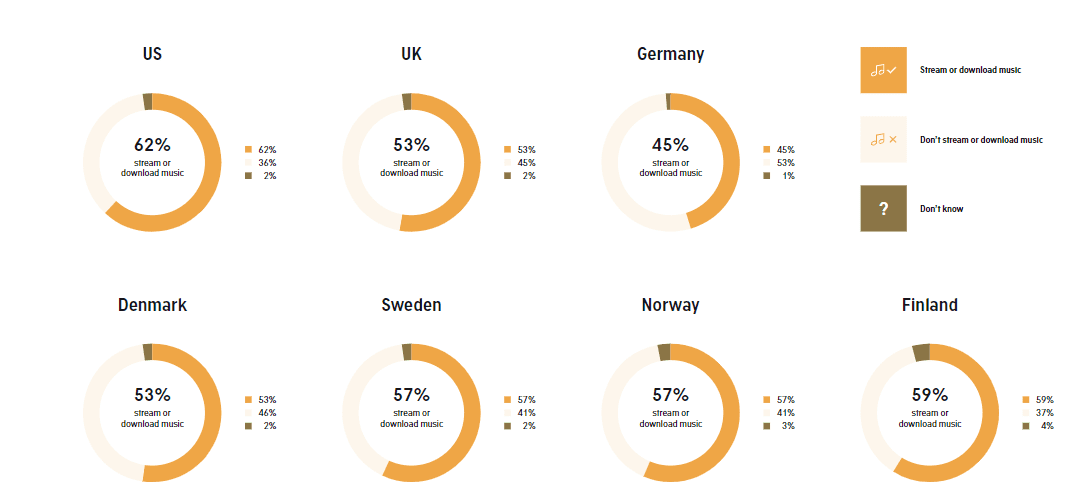 The majority of people stream or download music in all of the countries surveyed except for Germany 45%. The US 62%, The UK 53%, Denmark 53%, Sweden 57%, Norway 57%, and Finland 59%.
As for the people who don't stream or download music it was less compared to people who stream or download music. In the US 36%, the UK 45%, unlike in other countries Germany's percentage is 53%, Denmark 46%, Sweden 41%, Norway 41%, and Finland 37%.
Music Streaming's Growth in 2019 and 2020
Music streaming is experiencing growth since last year in the following countries: the US, UK, Germany, Denmark, Sweden, Norway, Finland.
The following chart shows that the US's growth increased from 60% to 62%.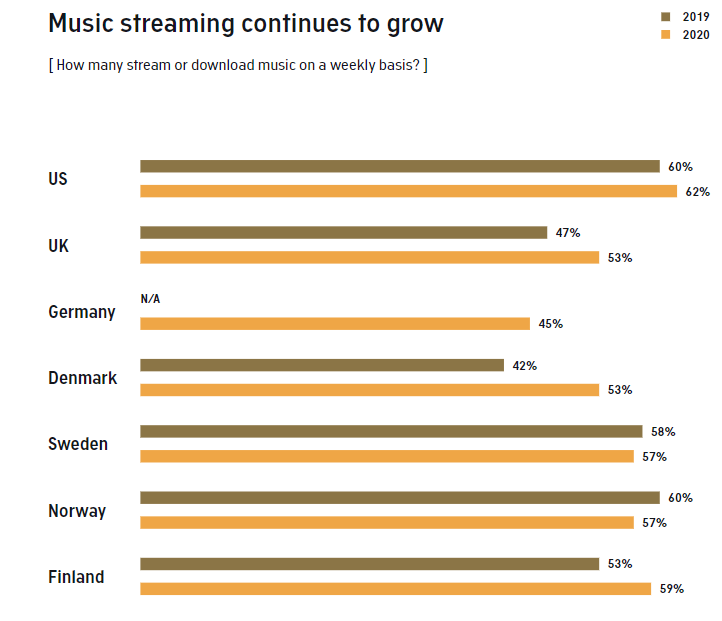 In the UK, it continued to grow from 47% to 53%.
A huge increase in the growth of music streaming in Denmark from 42% to 53%.
In Sweden, a slight decrease happened from 58% to 57%, Germany's music usage in 2020 is 45%.
As for Norway, it also decreased from 60% to 57%.
However, in Finland, it increased from 53% to 59%.
Spotify Dominates the Streaming Services in the US
Even though there are many music streaming services worldwide, however, in the US, Spotify took over the lead from YouTube and among many streaming services.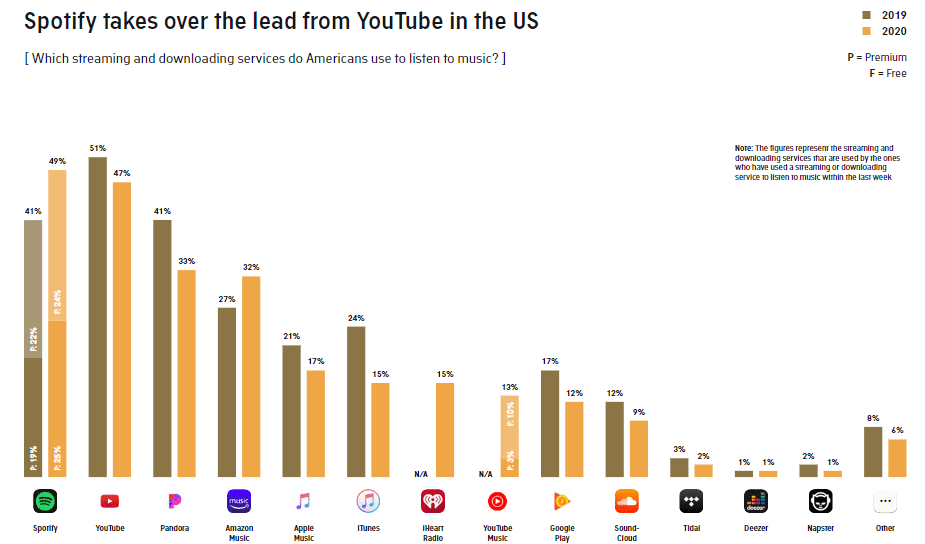 The Top Streaming Services in The US
Spotify
YouTube
Pandora
Amazon Music
Apple Music
Itunes
IHeart Radio
YouTube Music
Google Play
SoundCloud
Tidal
Deezer
Napster
The Table of Content of "Music Streaming, Podcast & Radio Insights 2020 Report":
Editorial
Music Streaming
Podcast
Radio
About the study
Number of Pages:
Pricing:
Methodology:
The study is a part of AudienceProject Insights 2020. Data is collected through online surveys done in Q1 2020. The respondents have been selected from our Nordic, German, UK and US panels consisting of more than 1.5 million panelists and weighed to achieve representativity on the more than 14.000 respondents who completed the survey