Due to the COVID-19 pandemic, standards of customer engagement are changing yet again, and marketers are at the forefront of modernization.
Companies look forward to connecting and building trust in uncertain times, customer experience has become more important than ever.
According to the six editions of the state of marketing, 84% of customers say the experience a company provides is as important as its products and services up from 80% in 2018.
Read on and dive deep into the "State of Marketing" report for further information.
Marketing Transformation Takes On New Urgency:
Even though a lot of attention is placed on the changing role of technology, the people behind this technology still the foundation of any marketing organization.
We can see that the definition of a good marketer in 2020 is expanding in a really big way. Today's top marketers are data-savvy collaborators who organize, activate, capture, insights that foster the connected journeys customers expect.
The following graph shows the percentage of marketers who rate their team's skills as advanced.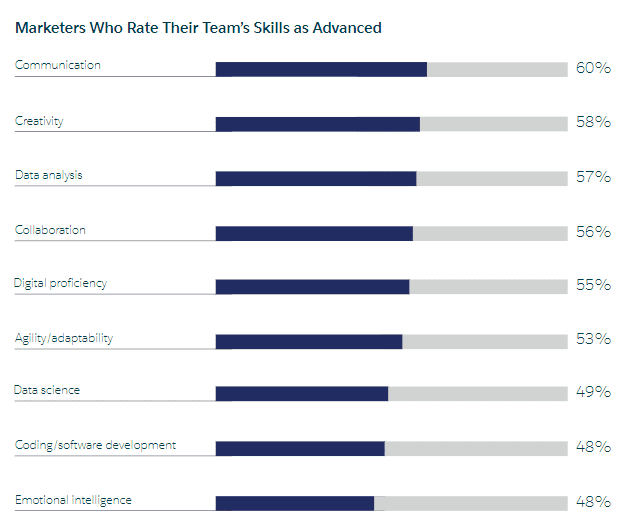 Communication tops the list with a percentage of 60%.
Comes next with just a 2% difference is creativity with a percentage of 58%.
Data analysis comes in third place with a percentage of 57%.
Collaboration is 56%.
Moreover, Digital proficiency comes in fifth place with a percentage of 55%.
Take a look at the full report of "Fifth Edition: State of Marketing" here.
Cross-Functional Collaboration Is Table Stakes
Nowadays, customers look forward to more and new types of information from businesses through more and new types of channels. As mentioned in the state of marketing report, 69% of customers expect connected experiences.
Moreover, 63% of marketers use the same CRM system like the sales and service departments.
Check the following chart for more marketing insights.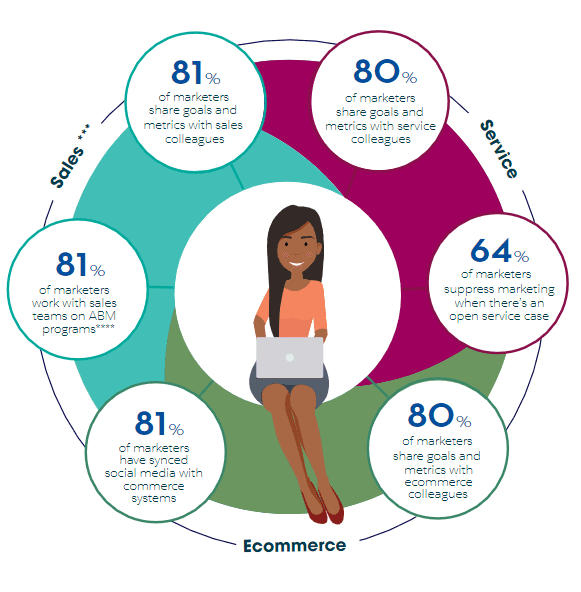 As shown, 80% of marketers share goals and metrics with service colleagues.
Also, there is a percentage of 64% of marketers who suppress marketing when there's an open service case.
80% of marketers share goals and metrics with eCommerce colleagues.
Moreover, 81% of marketers have synced social media with commerce systems.
81% of marketers work with sales teams on ABM programs.
81% of marketers share goals and metrics with sales colleagues.
Make sure to check the full "State of Marketing" report.
The Table of Content of "Six Edition: State of Marketing Report":
Executive summary
Introduction
Marketing transformation takes on new urgency
Customer data sets the stage for empathetic marketing
Marketers double down on the business value
Look ahead: The next decade of marketing innovation
Country profiles
Industry profiles
Appendix
Survey demographics
Number of Pages:
Pricing: