As the name suggests, text-to-image generators are apps that turn a textual description into a full-fledged visual illustration. So you can type "dog on the beach" in a textbox and within moments, voilà — you have a gorgeous piece of digital art that depicts what you just wrote.
This AI-based technology essentially runs on deep-learning models that began to be trained and developed in the mid-2010s. And now, as we head into 2023, relatively new systems like Stable Diffusion, Mid journey, and OpenAI's Dall-E 2 are capable of generating output that rivals the quality of real photographs and human-drawn art.
For marketers, this technology holds tremendous value, with use cases such as:
Quickly creating unique and eye-catching social media visuals

Avoiding costly photoshoots and generic stock photography by whipping up unique photorealistic images

Supplementing blog content with exciting artistic illustrations
…and so on, all without the help of expert graphic designers, photographers, or illustrators.
While the concept still sounds futuristic, text-to-image tech has advanced leaps and bounds in recent years and is already democratized for everyday use. For example, Canva, every digital marketer's favorite cloud-based graphic design tool, recently entered the scene when the company added a free AI-powered text-to-image feature to its app.
So, with a fair few options to pick from, which ones are worth a shot when it comes to helping your marketing efforts? Here are the top four AI-powered text-to-image apps handpicked for your consideration.
1. starryai
Starting with the first AI-powered text-to-image app, it is primarily focused on turning words into works of art, starryai is a mobile app available for free on iOS and Android. Simply describe what you wish to see and its AI creates stellar digital artwork that looks like it's straight from the canvas of a renowned artist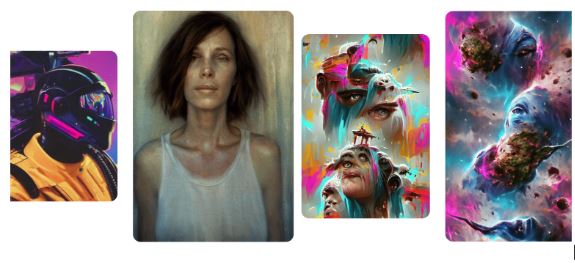 It helps you avoid hit-and-miss with your text prompts (so you don't get random useless results) by letting you choose an initial image as a starting point. You can also choose from a variety of preset styles, runtime, and aspect ratios so the final output is as close to your expectations as possible. You can generate images in bulk and easily share them, too.
Overall, it's a neat, no-nonsense app that visual marketers and designers can use for drawing artistic inspiration.
2. Dream by Wombo
Another one for creating worthy artwork, Dream by Wombo is a mobile app that lets you turn your idea into an AI-powered painting in seconds. Enter a few prompts, pick an art style, and get a photorealistic portrait in any background of your choice.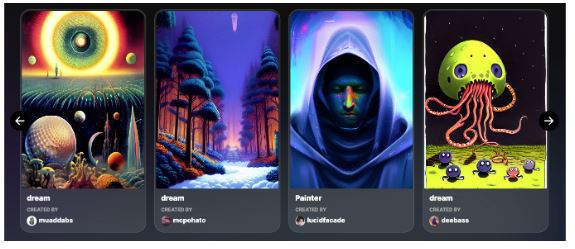 Besides offering features similar to starryai, Dream by Wombo boasts a community of artists where you can find featured creations from other users. You can also buy a print version of your artwork, which you can use in offline marketing collateral (flyers, posters, etc.).
Rated well on both iOS and Android, Dream by Wombo deserves a try if you want to create professional-looking portraits to supplement your marketing efforts.
3. Photoleap
Photoleap is a full-featured photo editing app available on iOS and Android. Developed by Lightricks, the company behind visual content creation apps Videoleap and Facetune, it's an easy-to-use tool packed with features that let you:
Remove background objects and create cutouts

Merge photos and add exposure, layers, stickers, effects, fonts, and filters

Animate your photos to create GIFs and videos

Turn your photos into artwork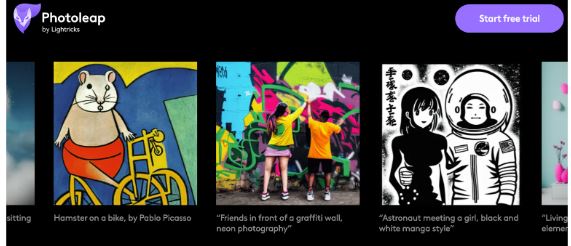 And when you add its AI-powered text-to-image capabilities into the mix, you have an intuitive all-in-one image editor that lets you run wild with your creativity — describe anything, click generate, and get a gorgeous illustration that you can further edit easily to fit your needs.
What's more, if you have a rough idea of what you want, you can choose to sketch it out and add a short prompt — after which Photoleap's AI will fill in the gaps to transform your sketch into a professional-grade image. All in all, Photoleap is a powerful and versatile photo-editing app that lets you take your AI-generated images in any direction you like.
4. Pixray
The second AI-powered text-to-image tool is Pixray. If you're looking to generate art that's more abstract in nature, the free web-based application Pixray is one to try. It's a bare-bones, open-source image generation system that asks to input a text prompt, the type of render, and any extra settings in the "name: value" format.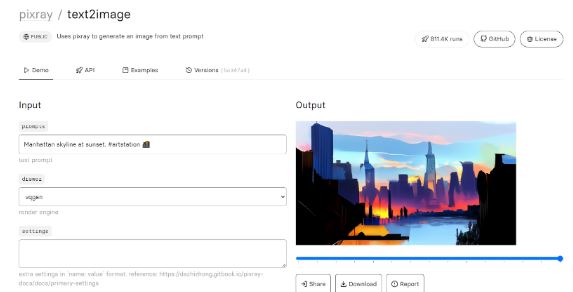 The output (generated within six minutes) is an AI synthesis that usually looks like a piece of abstract art. You can see the code log unfolding as your image is generated, and select the level of detail you'd like to see in the image using the slider.
It offers an API as well, so you can run Replicate's machine-learning models in the cloud from your own code, without having to set up any servers. As a Python library and command line utility with a GitHub repository, Pixray is more appealing for developers than marketers, but marketers can still use it to quickly create supplementary artwork for their blog and social content.
Closing thoughts
Ultimately, these apps will serve to help marketers, content creators, and web designers — not take away their jobs — as they reduce the effort of image-making. They enable visual marketers to focus their efforts on creative ideation, writing good prompts and improving their curatorial taste.
As the technology's mainstream use is still in its infancy, you can stay ahead of the curve by trying out these AI-powered text-to-image tools and finding the right one for your niche and marketing needs.