Lead generation through Lead Ads is the initiation of consumer interest or inquiry into products or services of a business. Leads can be created for purposes such as list building, e-newsletter list acquisition or for sales leads. Leads drive revenue. At this very moment, every successful brand is executing strategies to produce leads three or four quarters down the road.
Facebook lead ads can accomplish a variety of marketing objectives, but they're best at helping with one of marketing's golden rules: Know your audience. Many marketers think they do, but often confuse customer data with customer analytics. 
In a mostly online ecosystem, it's easy to forget that sometimes the best way to learn about customers is to just ask questions. That's exactly what Facebook lead ads (sometimes called Facebook lead forms) do. If your objectives include market research, customer feedback, or even increasing conversions, lead ads may be the right solution.
In this case study, we'll discuss how Volkswagen UK raised awareness of a new car model launch and gained a considerable increase in leads when it used Facebook lead ads.
Volkswagen was founded in 1937 and has been active in the UK since 1952, when the first two Beetles were sold. Volkswagen has since grown into one of the largest automotive companies in the world. With iconic vehicles such as the Beetle and the Golf GTI, few manufacturers have produced as many legendary cars as Volkswagen.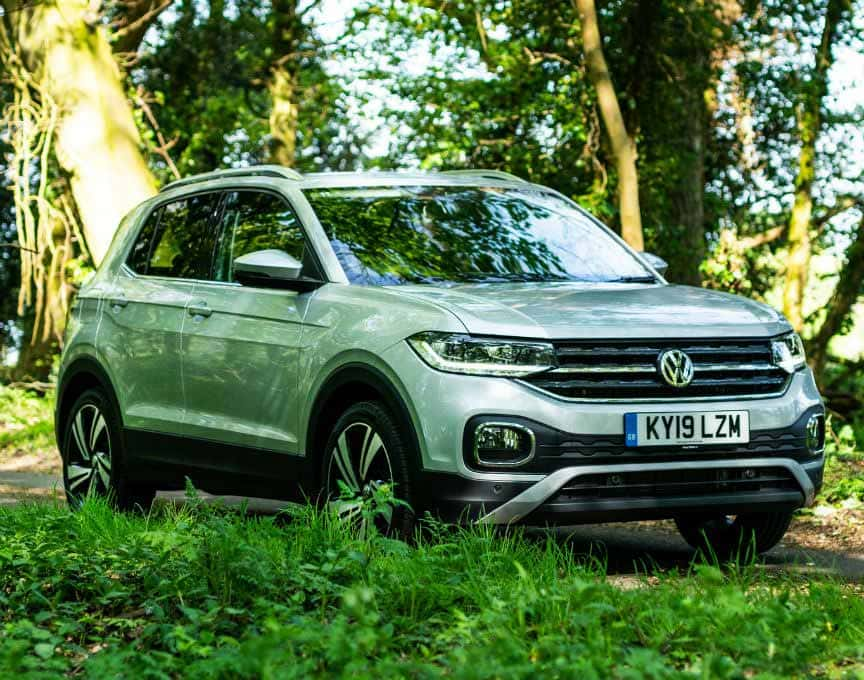 PROBLEM
With the launch of its new T-Cross compact SUV, Volkswagen UK wanted to reach a young, affluent audience. Launching into a hyper-competitive market with more than five months between the initial reveal and on-sale dates, Volkswagen needed to maintain high awareness, interest and intent until the big day.
Faced with a five-month gap between the winter 2018 announcement of its new T-Cross model and the vehicle's UK launch in spring 2019, Volkswagen UK and its media agency PHD decided to build interest in the SUV using Facebook lead ads, which allow people to register their interest in a product with one click.
SOLUTION
Volkswagen's agency adamandeveDDB edited existing videos and photos of the car to create compelling lead ads for Facebook, Instagram and Stories. At this stage, the campaign was broadly targeted all potential adult car buyers age 25 and older, inviting them to register interest in the new T-Cross.
After the launch, Volkwagen narrowed its target audience to younger drivers aged 25–44, to whom the new car is designed primarily to appeal. Audiences were identified and built using interest targeting, reaching people with shared interests in relevant topics both on and off Facebook.
During the launch phase, video ads were used to complement and build awareness of the TV campaign, which was fronted by model and actress Cara Delevingne. Video ads were based on the TV commercials and re-edited for maximum impact on mobile.
The campaign used automatic placements on Facebook and Instagram to get the most impact for the lowest possible cost. The split was 60/30 in favour of Facebook during the brand lift phase. The Facebook and Instagram campaigns were also part of a major integrated launch that also used TV, print, out of home and other digital platforms.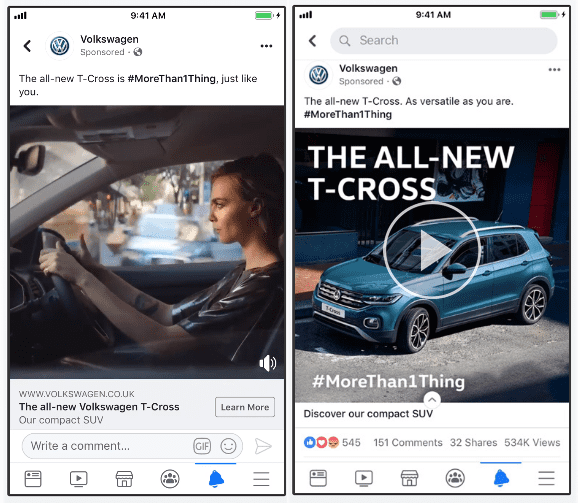 RESULT
Volkswagen UK's extended launch campaign on Facebook for its new T-Cross SUV helped establish the vehicle in people's minds, and generate leads before it went on sale. Between November 11, 2018–April 27, 2019, the campaign achieved:
13-point increase in brand awareness

45% of all pre-launch leads came from lead ads on Facebook and Instagram

6.2-point increase in campaign awareness