There is a great threat to brands and retailers which offer a superior delivery experience is hat they fall to provide the returns experience that complements this superior experience. Brands besides retailers need to make sure they have a suitable returns strategy experience to compete, as returns increase.
If we talk about the US, the return deliveries are estimated to cost around $550 billion by 2020, however, only 61% of shoppers are generally satisfied with returns.
This returns experience guide will uncover the challenging returns landscape, what to consider for a winning returns strategy, and what consumers want when it comes to returns.
Returns Experience: What Are the Challenges of the Returns Landscape?
Here is a quick sneak peek of the challenges of the returns landscape.
Consumers are becoming more globally and buying internationally, changing their returns needs and expectations: It is reported that around 49% of consumers have already made between 1 and 5 purchases overseas. What every consumer wants is the assurance to return their items back easily when it comes to international items. However, there are other challenges for consumers that are lengthy refund times, customs issues, and of course, high returns costs.
Consumer behavior is changing: eCommerce industry and online marketplaces are growing. There are 41% of consumers who say they often or sometimes purchase multiple items online knowing they will return some r maybe all of them and they are also 3x more likely to return online purchases than those made in-store.
Poor returns management can be costly across your business: The returns and repair process can account for around 10% of total supply chain costs, however, this can increase to reduce profit by 30%. We can say that businesses are facing pressure to manage supply chain costs, and the wrong returns processes costs can spiral.
Returns have not always received the focus they deserve: Brands and retail are always focused on the purchase journey and less focused on the post-purchase experience. This is totally wrong and the return experience should be valued as much as the purchase experience.
What Are the Returns Options That Suit the Local Market?
Brands and retailers need to understand and know different consumer preferences as well as providing the right returns options. They have to make sure that they provide the returns options which appeal to customers in the markets that they want to reach.
The chart below shows some countries and the percentage of how they want their returns experience.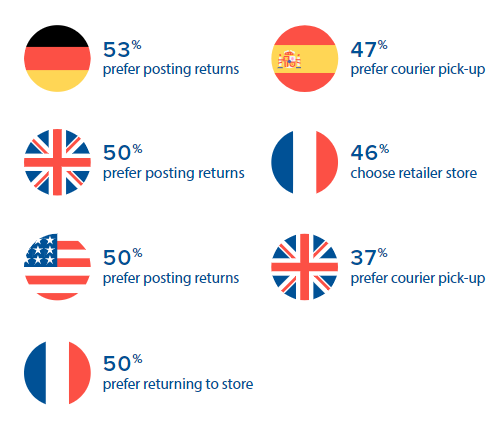 How to Get Your Returns Strategy Right?
To get a right and satisfying returns experience you need to consider the following steps.
The top five tips to get your returns strategy right:
Use an online return portal to reduce costs and to speed up refunds: This one can make retails able to send customer returns via the most cost-efficient international and local service, this results in a 57% reduction in shipping costs.
Ensure a seamless omnichannel returns experience: Make sure to provide more flexibility and choice to consumers to make sure they can return their items in a convenient way through multiple channels. Make sure the online and offline experience is superior.
View returns as an opportunity: You need to make your returns experience stand out as returns increase, the best eCommerce players are using the returns experience to differentiate and extend their brand experience.
Find the right partner to support your international returns: Make sure you have the right advisors and tolls in place to support successful growth.
Customer tracking: You need to track your customers with service calls requesting information about refunds. With return portals tracking portal customer service calls be reduced by the percentage of 40%.
The Table of Content of "A Retailer's Guide to Returns":
Understanding the challenges of the returns landscape
What do consumers want?
Returns options that suit the local market
Benefits of robust returns strategy
Getting your returns strategy right
Number of Pages:
Pricing: