AI and automation are terms often shrouded in ambiguity. Like they're some kind of mysterious robots from a Star Wars movie. However, they're not as intimidating as they sound.
What Are AI and Automation?
Before getting started with the AI and automation insights, for those who don't know what these technologies are:
AI enables computers to think in a smarter way – it can analyze heaps of data, activate a response, and recognize patterns. Our smartphones use it for facial recognition as an example.
Automation refers to systems that are pre-programmed to follow basic rules, such as performing a routine, or other administrative tasks.
AI and Automation Disrupts a Number of Sectors
According to the AI and automation insights, There's often the misconception that automation, in particular, is mainly a disrupter of highly manual labor – industries such as manufacturing or construction.
AI and automation are heavily used in financial services for task automation, fraud detection, and better consumer interactions.
The chart below shows the percentage of professionals who say their company uses the following technologies: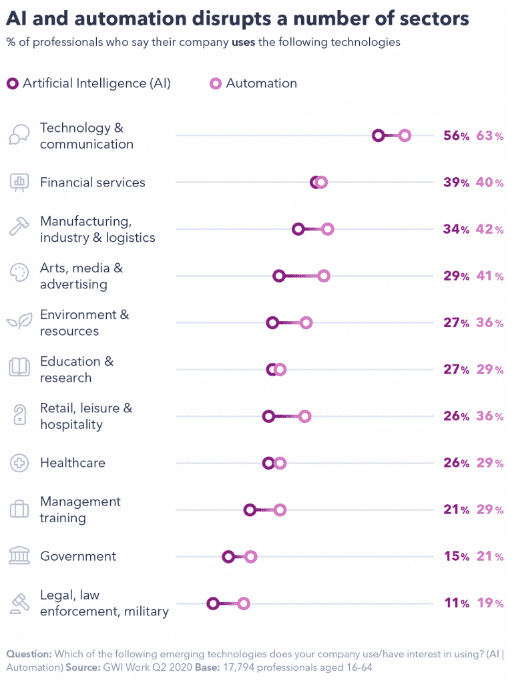 Based on the chart, AI and automation have the potential to transform sectors that are under immense pressure, such as healthcare.
Moreover, COVID-19 has further accelerated AI's role in healthcare; from using virtual AI-driven chat assistants to detecting and speeding up drug development for the virus.
Automation Is Tied to Greater Company Growth:
There is a prevalent perception, that automation will wipe out jobs. There might be some jobs already that are made redundant to an extent, it's not as doomy as it might sound. AI and Automation insights find clear differences in revenue and employee growth expectations between professionals whose company uses automation vs. those who don't.
The chart below shows that automation is linked to company growth: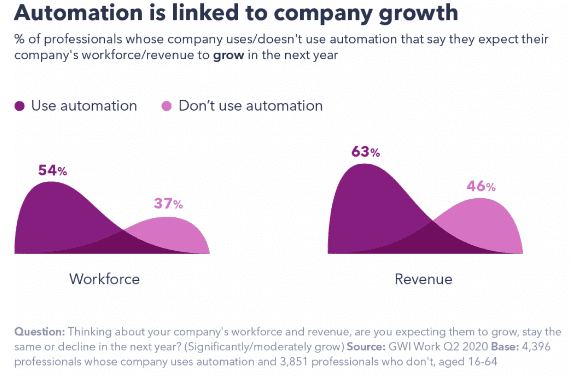 Among professionals whose company uses automation, a percentage of 54% say they expect to see moderate or significant workforce growth in the next year, compared to a percentage of 37% of those who don't use automation.
Generally, Those who use automation are more optimistic about the future growth of their company.