Facebook has always been careful not to lose touch with the kids. Enter their latest attempt to stay cool with the younger generation.
The screenshots in the header image are from a new app called Whale (not to be confused with Whale Chat!) which is now available to Canadian users via a company called NPE Team LLC. NPE – which stands for 'New Product Experimentation' and is actually part of Facebook's experimental app division. Here's what the Whale's App Store description says: 
"No distractions, no hidden subscription pricing. Use your own images or choose from our stock photo library and get creative with text, tools, effects, and more right inside the app."
The app is set to allow users to create memes with their own images or pictures from the app's stock photo library. Choose a photo, then add text, and various effects, emoji, stickers and other meme-related shenanigans. When done, you can save your freshly created memes to the camera roll, or share them to social media and message threads directly from the app.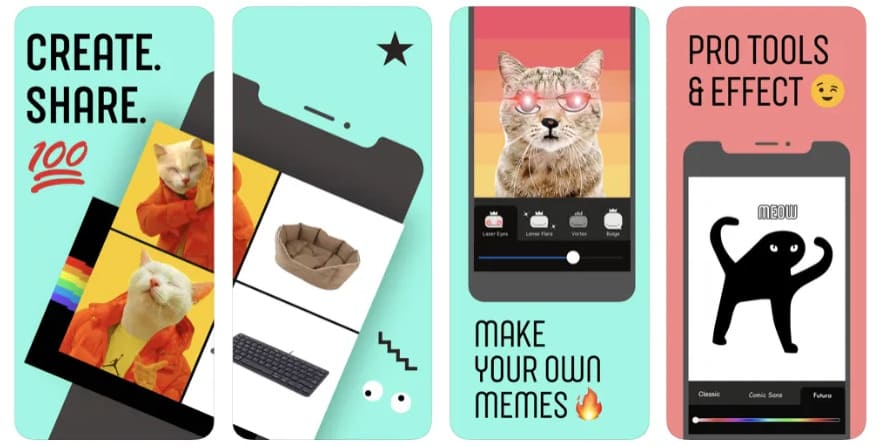 It's not the first time Facebook has attempted a new app. Take a look below where you can also see a growing list of Facebook's previous youth app failures which shows just how much they're trying to stay down with the youth:
Snapchat clone Poke (2012 – 2014)
TikTok challenger Lasso (2018 -)
Snapchat copy Slingshot (2014 – 2015)
Cool kids app Lifestage (2016 – 2017)
Houseparty replicant Bonfire (2017 – 2019)
Instagram with a New Trick
On a different note, Instagram rolled out a new feature which seems to replicate the main functionality of TikTok. But instead of taking on parent-company Facebook's usual tactic of launching a separate app, Instagram is adding its new 'Reels' feature as an element within Instagram Stories. Instagram looks to use the app's scale to try and beat TikTok at its own game.
Reels is a feature that enables users to make short videos which they can share or remix just like TikTok. Those videos can include music, utilizing Facebook's expanding music library. Also, Reels includes a range of creative editing options, like variable playback speed and 'ghosting' which enables users to create more seamless scene transitions.