We can't deny that 2022 was a truly big year for digital advertising thanks to increased investments in connected TV, eCommerce ads, and investments in video, as well as the growing use of programmatic channels.
A lot has happened in 2022, so in this report, we will see how things turned out and what some predictions may mean for 2023!
Let's dig deep in this digital advertising trends report…
Digital Ad Spending Blows Away Our Pre-Pandemic Outlook
According to the digital advertising trends report, at the beginning of 2022, it was predicted that upper-funnel ads would drive digital ad spending gains.
Even though search would remain a larger contributor to digital ad spending than video, the latter is where the budgets would shift.
This would be true across a range of platforms as well as publishers, including CTV services, retailers, and even social networks, where video ads sit higher in the purchase funnel than other formats.
So, where are we now?
Based on the digital advertising trends report, search is steady and it remains the most mature and largest ad channel, however, it's not growing as fast as CTV or retail media.
Also, even though the digital ad spending forecasts were slightly reduced to correct for adverse market conditions, the mix between formats has remained essentially unchanged.
Finally, we can say that spending would be well above pre-pandemic estimates.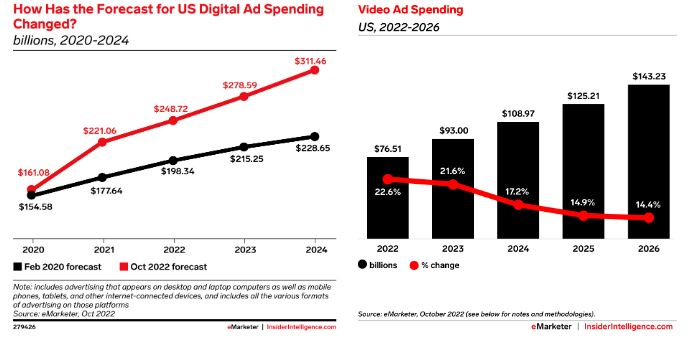 Programmatic Display Goes From Big to Huge
The 2022 prediction was that CTV platforms would improve targeting as well as measurement capabilities in their programmatic channel.
Not only that but also, advance in cross-channel identity and measurement, as well as improvements in technologies used to determine who within a household is watching a CTV at any given time, would drive growth in programmatic CTV ad spending.
So, where are we now?
According to the digital advertising report, we saw progress made in methodologies built around models, AI, and machine learning, like extrapolated data and media-mix modeling.
And also, it was predicted that more companies would join the ranks of Google, Amazon, and Roku by licensing their streaming operating systems.
Here's the chart of the programmatic digital ad spending: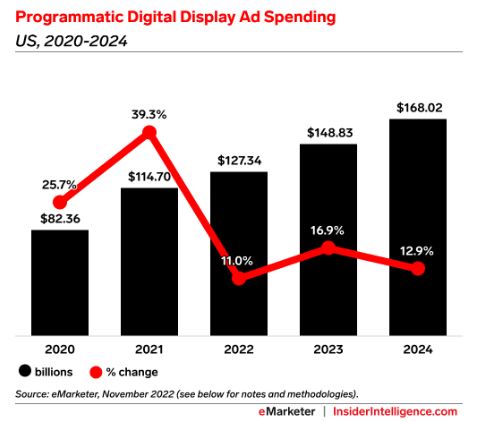 And the connected TV programmatic display ad spending: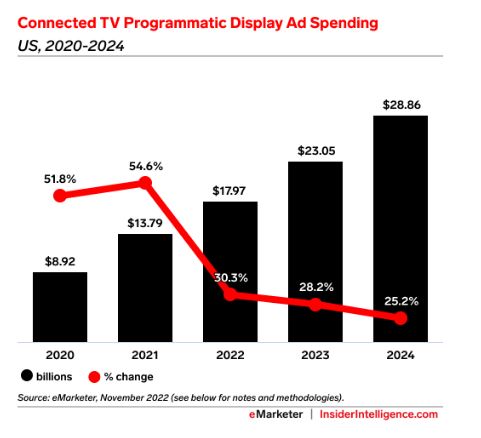 You can take a look at the digital advertising trends in 2022 and the predictions for 2023 in this report!
The Table of Content of "Digital Advertising Trends in 2022" Report:
Digital Ad Spending Blows Away Our Pre-Pandemic Outlook
Programmatic Display Goes From Big to Huge
Addressable Is a Bright Spot on the TV Dial
The Pendulum Is Swinging Toward AVOD
TV and Video Ad Measurement Is a Hot Mess
Glossary
Number of Pages:
Pricing: