Different social media platforms are used for specific purposes. For example, individuals use it to discuss their interests, connect with friends, and grow their careers. Marketers use it to increase brand awareness, improve traffic, and generate leads.
In this report, you will get a closer look at social media types and their pros and cons. let's get started.
Social Media Types: Social Networking:
According to the social media types report, social networking is probably the most traditional form of social media.
For instance, here are the major platforms:
Facebook: 2.6 billion monthly active users.
Twitter: 166 million daily active users.
LinkedIn: 160 million users in the U.S. alone.
These are called "networking" platforms because they allow user accounts to interact with each other in different ways. Here's an example of Facebook's news feed: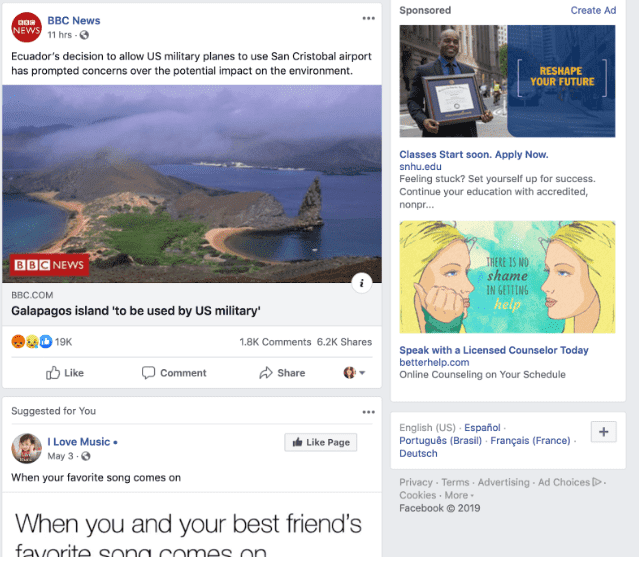 According to the social media types report, here are the pros and cons of the social networking platforms:
Pros:
Facebook, Twitter, and LinkedIn are some of the most prominently used forms of social media.
Social networking sites often combine with scheduling tools like Hootsuite, Hubspot, and TweetDeck software
All social media platforms have capabilities for photo and video.
Cons:
Those interested in just posting links may have a harder time getting engagement than those uploading photos and videos.
However, some platforms, like Facebook, put individual user posts higher than business posts in newsfeeds.
Video-Sharing:
When it comes to video sharing, according to the social media types report, YouTube is a major platform with over 2 billion monthly active users, and Vimeo with 240 million monthly viewers. However, approximately 88% of marketers say that video gives them a strong ROI.  Not only that but also 90% feel the level of video competition has increased.
Here's a comprehensive video that explains how to use Snapchat:
Based on the social media types report, here are the pros and cons of video-sharing platforms:
Pros:
Video-sharing platforms are very creative and experimental.
They have young audiences, and that can help brands better target Gen-Z.
Stories can be used to give your following a behind-the-scenes look at your brand.
On the other side, the cons are:
Producing regular content could be expensive besides being time-consuming.
Business accounts aren't promoted up-front on the Snapchat interface. You may want to promote your channel on your website or other social channels because users will need to search for you with your Snapcode or username.
Moreover, Snapchat and TikTok are limited to mobile also they aren't as easy to use.
Check the full social media types report here.
What's in The "The 5 Types of Social Media and Pros & Cons of Each" Report:
Types of Social Media

Social Networking
Photo Sharing
Video Sharing
Interactive Media
Blogging/Community Building

A Few Things to Consider
Number of Pages:
Price: