An Instagram growth service can be a powerful tool for companies looking to improve their online presence. 
As the 7th most-visited site in the world, Instagram is a great place for eCommerce businesses and website owners to find new prospects and connect with their audience.
In recent years, Instagram has become perhaps the most popular social media site for business leaders in search of improved visibility, customer loyalty, and new opportunities. However, it's not without its challenges. With countless business owners already active on Instagram, it can be difficult to ensure your organization stands out from the crowd.
Even if you have plenty of amazing content to share, you may still need some additional help to reach your audience and differentiate your brand. Fortunately, Instagram growth services can help. They essentially help you to automate your social media strategy, boosting engagement and connecting with customers on an incredible scale.
Here's why you should consider an Instagram growth service for your business.
6 Benefits Of Instagram Growth Services for Your Business
Instagram growth services come in a range of different formats. Some offer like-for-like growth opportunities, while others can assist with automating and streamlining your posting process. Despite the differences, however, all of these services focus on one core goal: helping you increase your follower count.
When used correctly, Instagram growth services can deliver some amazing benefits, including:
1. Increased Visibility
The first step in strengthening your social media presence is ensuring your posts can reach the customers you want to connect with. With an Instagram Growth service, you can improve your chances of positioning your content in front of customers with a genuine interest in your brand or products. The more followers you get, the more your engagement levels can grow.
After all, follower growth has a compounding effect on Instagram. As you earn more followers, you become more credible in the eyes of your target audience. Not to mention, your followers can also boost your visibility by sharing your content, @mentioning their contacts, and driving new people to your profile and pages.
2. Targeted Audience Connections
The best Instagram growth services don't just provide a larger quantity of followers to companies, they can also give you higher-quality connections. Many of the top solutions come with access to targeting capabilities, which help you to reach specific followers, relevant to your business.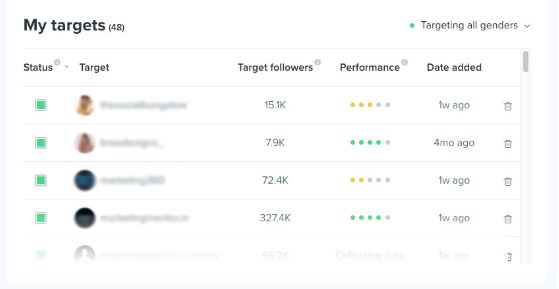 You can pinpoint unique demographics, and ensure you're spending your marketing budget on connecting with the prospects most likely to engage with your posts and convert into paying customers. Targeting the right audience not only leads to better engagement, it also means you can increase conversion rates.
3. Revenue Potential
An Instagram growth service works to strengthen your reputation with your target audience and bring new followers to your account. The more Instagram followers you get, the more your revenue potential will increase. Extra followers mean you have more people to direct you to your website, product pages, and landing pages. Plus, it ensures you can promote your offers to a wider range of customers.
Depending on how you plan on using Instagram, you could even unlock additional monetization options. For instance, you could run social selling events where you provide customers with access to new products at a discount. You can even sell items directly through Instagram, giving you a new avenue for profits and growth.
4. Time-Saving
Instagram Growth services are excellent for saving businesses time on promotional efforts. When you're running an e-commerce business, it can often be difficult to find the time required to consistently monitor your social media environments and engage with potential prospects. With a Growth service, you can automate a lot of the tasks that would otherwise consume crucial time.
Your solution provider will handle engaging your audience and attracting new attention to your profile on your behalf. This means you can focus more time on developing products, running your company, and unlocking new opportunities. Some solutions even come with tools to automate posting schedules and find hashtags, too.
5. Cost-Effective
While hiring the services of an Instagram Growth solution might seem expensive at first, it can actually help you to save money in the long term. With a Growth service, you don't have to spend nearly as much money on promoting your content, purchasing Instagram ads, and working with influencers in order to attract attention to your profile.
What's more, because you can target the specific customers you want to reach, you can ensure every penny you spend on your marketing strategies generates real, valuable results. Overall, the right Growth solutions can help you to make the most of your marketing budget. You can even sidestep the expenses associated with teaching your team how to manage social media.
6. Stay Ahead Of The Competition
As mentioned above, one of the biggest challenges companies face when trying to succeed on Instagram these days is figuring out how to stay one step ahead of the competition. The number of brands on Instagram is constantly growing, which means many businesses have to invest significant time and resources into making sure they stand out.
With an Instagram growth service, you can ensure you're staying ahead of the competition in terms of visibility and reach, with minimal effort. This can lead to increased market share, an improved reputation, and new opportunities for long-term success.
Top 3 Instagram Growth Services For eCommerce Businesses
As companies continue to invest in Instagram as a tool for accessing new leads and prospects, the number of Instagram growth service providers has increased drastically. If you're not sure where to start searching for the right solutions, here are some of the top options on the market today.
1. Kicksta
Kicksta is one of the most popular Instagram growth options on the market today, for good reason. The service provides opportunities for organic growth, without resorting to the use of any fake followers, bots, or spam. Using AI technology, the system automatically finds real followers relevant to your account and engages with them on your behalf.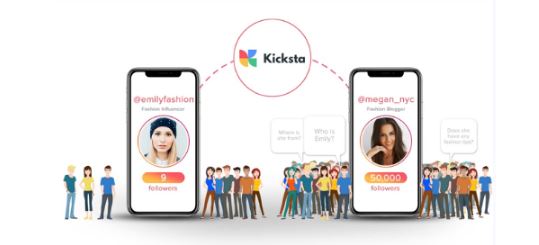 The platform allows e-commerce companies to choose specific "target accounts" with followers they want to reach. The AI system then "likes" a handful of photos from each account, encouraging the users to return to your company's profile and follow or like your posts in return.
The solution even includes a range of amazing extra features, like a hashtag generator to help you come up with niche tags for your e-commerce company and a blacklist for avoiding unwanted accounts.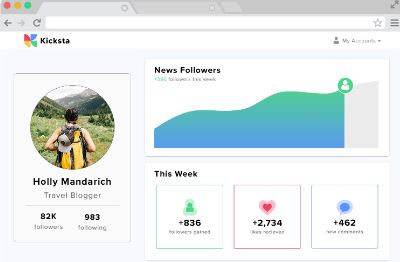 Pros:
Advanced targeting features for quality followers

Proprietary AI technology

No commitment, with month-to-month pricing

Excellent customer service and support

No bots, spam, or fake accounts
Cons:
2. SocialFollow
Another well-known Instagram growth service, Socialfollow, helps businesses to access more followers by giving them access to a network of similar users. While you do have to do most of the engagement work yourself, SocialFollow can help eCommerce brands find relevant accounts to "follow" based on shared interests.
SocialFollow is easy to use for beginners and comes with a 14-day trial, so you can test out the functionality before you buy anything. The platform comes with set-and-forget targeting features, SSL encryption for security, and a fantastic set of privacy options.
Pros:
Rapid organic growth options

Targeted account following

Set-and-forget automation features

Excellent customer service and support

SSL encryption and data security
Cons:
May require more work than some alternative options

Free followers are no longer an option
3. Twicsy
Another great option for companies planning on using their own Instagram growth service is Twicsy. This platform promises to help you boost your Instagram presence in minutes, with real users and accounts. The solution is easy to access for beginners. All you need to do is fill out a few forms, choose your package, and decide whether you want to access likes, followers, or views.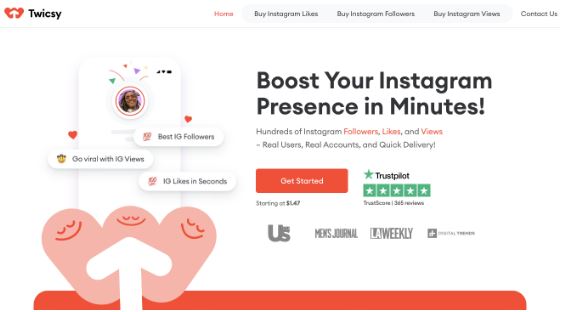 Twicsy does require users to give the system access to their Instagram handle in order to leverage the service. However, for eCommerce brands hoping to accelerate reach and visibility, this tool can be extremely useful. You can decide whether you actually want to invest in followers for your account, or simply improve your engagement for key posts related to your store's promotions and offers. The pricing is also extremely affordable.
Pros:
Packages for likes, views, and followers

Easy-to-use ecosystem for beginners

Quick results on most plans

Experienced and helpful support staff

Real followers and accounts
Cons:
Some limitations on targeting

May take a while to generate significant growth
Ready To Use An Instagram Growth Service?
There's no denying that Instagram can have a fantastic impact on your business and revenue potential. Instagram offers a fantastic environment for eCommerce stores to reach new prospects, accelerate lead generation, and even build stronger relationships with customers.
However, achieving rapid, consistent growth can be difficult unless you have the right support in place. 
An Instagram growth service can save your business time and money when it comes to generating new sales and opportunities at speed. 
Just make sure you choose the right service based on your specific goals and requirements.