Most businessmen are very frustrated about where their enterprises' success is going during a pandemic of 2020. For restaurant owners, specifically, promoting the foodie spaces is quite uncertain at the moment. However, digital marketing seems to be a silver lining within such a COVID-19 cloud to promote restaurant.
How does it help to drive more clients and contribute to your overall growth?
You will find this and much more in today's article.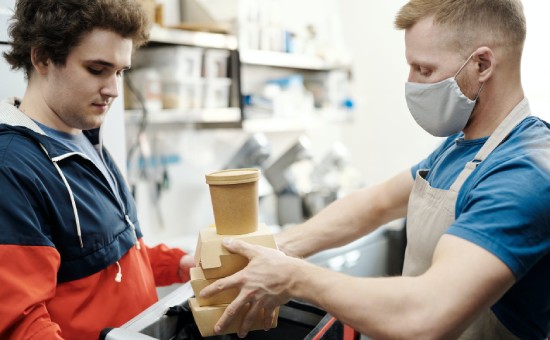 Promote Restaurant and Win More Reliability and Authority
Thanks to digital marketing, your restaurant can become a reliable source of not only tasty food but also information. Initially, when restaurants start a promotion campaign online, it all comes down to the blog creation, where you share information and establish communication.
Respectively, when you create genuinely helpful content by maintaining a daily newsletter or regular reminder, the restaurant you are supervising in gets a higher rank in its authority.
Also, your competition increases. During a pandemic, restaurant managers and owners are super slow to switch from offline to online mode. However, those who are not afraid of going off the beaten offline track gain more than they would do during their normal period.
The customers' voice is finally heard by you which gives you both the win-win prospects to develop for the common good. You listen to your target audience's requests and they primarily become more loyal. In fact, 71% will be more likely to recommend you, as a media restaurant that responds quickly to them on social media
Use Digital Marketing to Maintain a Permanent Presence
According to the Brightlocal survey, out of all industries, consumers read restaurant reviews more than any other industry. And this implies nothing more but the importance of actual presence. Especially, when it is a lockdown period or some pandemic.
Generally, it is the main aim of everyone who has ever reached out to digital media marketing. Not only it is necessary to build an active strong client base but also keep these clients engaged around the clock and that's what you can achieve with your restaurant marketing initiatives
Moreover, when you appear on various social platforms, it is more likely to get an increased engagement rate that will eventually drive more new followers (potential customers) to your café.
The human factor will apply and eventually change their perception of your brand. Consumers will know exactly you are always present out there to take an order, take into account feedback, request a suggestion, and improve the service, in general.
Related Article: Effective Tips and Tools Help Your Business Survive COVID-19 Pandemic
Understand Your Market
Another wonderful aspect of going social is that you can level up with your understanding of the market. Consequently, you will learn all the ropes of powerful advertising and know-how to deal with a wave of potential customers online.
When managing your restaurant business online, we are often exposed to discovering different technology solutions that we would never ever use before. Thus, advertising is always a good restaurant marketing idea that comes in handy.
While thousands of restaurateurs are failing to understand the idea behind online ads in this unprecedented time, you can already set your focus on paid media and win the battle of customers' attention online.
In addition, digital networks help you create the most comprehensive strategy for your restaurant website by pinpointing the key nuances of trade and leveraging your marketing skills.
Find more tips and tricks shared by 'Pick The Writer' about how can you improve your researching skills.
Related Article: 10 Useful Social Media Management Strategies in Times of Crisis: COVID-19 Outbreak 2020
Ensure a Better to Survive a Pandemic
Promoting a restaurant using digital marketing gives you a broader insight into the resolution of a current problem or at least addresses you to find the safest way out when the crisis ends. Whenever some up-to-date news, changes, or problems pop up, you should be able to communicate that. And doing this socially is the best.
Most importantly, when you decide to use digital marketing in a period of tumultuous challenges, your restaurant business will still keep going well. It all comes down to the frequency of time and effort you are about to invest when it is all online.
Nothing will change for you. And, in fact, due to the online marketing advantages, there is a good chance it will rather let you grow when everyone else is stagnant or in deep waters.
So, as you might understand already, nothing is going to hit you off the balance and impact your strategy. Instead, guarantee you do not come out of it broke and unstable. It is exactly the opposite. Effective marketing will make you thrive.
Related Research: COVID-19 Marketing Impact | LinkedIn
Target Existing Customers and Attract New Ones
At a time when each competitor seems to be going tone-deaf with their restaurant business management, it is a unique opportunity for you to become the man of this market. Just imagine, you can cultivate communication with all existing and potential customers if you go digital. Along with that, you can convey new practices of interaction that engage your audience.
When you promote your business online, it is way easier to allocate your time and money to an effective catering campaign that will strengthen your advertising effort and also segment your target audience. Depending on their status you will get to grips with how you should communicate with a particular individual visiting your restaurant social media website.
Beyond this, digital marketing will facilitate gradual consumers' trust growth. Many restaurants are struggling to regain it after social distancing guidelines that make anybody suspicious. But you will be able to avoid this problem.
Lastly, digital marketing campaigns will generate dozens of restaurants promotions ideas to hook the clients and make them come back. It is only about winning over their appetite but also ensuring the most pleasant experience during such a difficult time.
Related Research: The Impact of COVID-19 on Digital Agencies: A Survey Report | Uplers

Conclusion 
If you associate the COVID-19 pandemic with complete business failure, if you consider shutting it down, if you think you are toast, let us reassure you once again you are not. It would be like this, for sure if digital marketing didn't exist. But, as it is hanging there, why don't you start your own marketing campaign and finally climb up the corporate ladder leaving all uncertainties and insecurities behind? You know so many things to make it work. All that's left is to set in force.