One of the most important things any marketer needs to take into consideration is knowing when to post on social media platforms, as it will keep you one step ahead of your competitors.
Finding out the best time to post on Instagram is essential, whether you want to find out the peak times to get more engagement and interaction with your social media campaigns, or if you want to capitalize on quieter Instagram.
Find out what Sprout Social revealed;
What Are the Best Times to Post on Instagram?
It is important to know the peak times to post on Instagram, that way you will reach as many audiences as possible.
The chart below shows that:
The best day to post is on Friday.
The best time to post in on Friday at 9 a.m.
The worst days to post are on Saturday and Sunday.
However, engagement is most consistent on Monday through Friday between either 8 to 10 am or 2 to 4 pm.
On the other hand, the lowest engagement happens every day before 5 am and after 9 pm.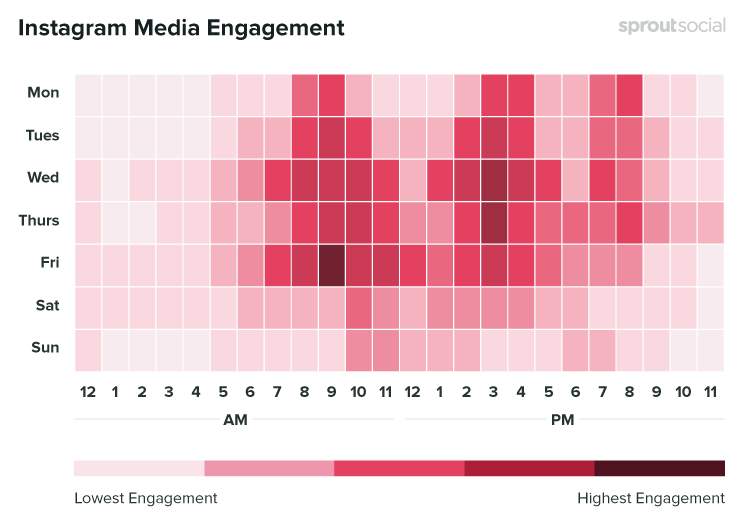 What Are the Best Times to Post Consumer Goods on Instagram?
It is obvious that because of the visual nature of Instagram it made it perfect fir for selling and showing every kind of product. Therefore, brands can make better use of approaches to make their offerings stand out.
In light of that, they can use influencer marketing strategies help, in addition, IGTV videos which help in showing the features and unique selling points in every and each product.
The chart below sums it up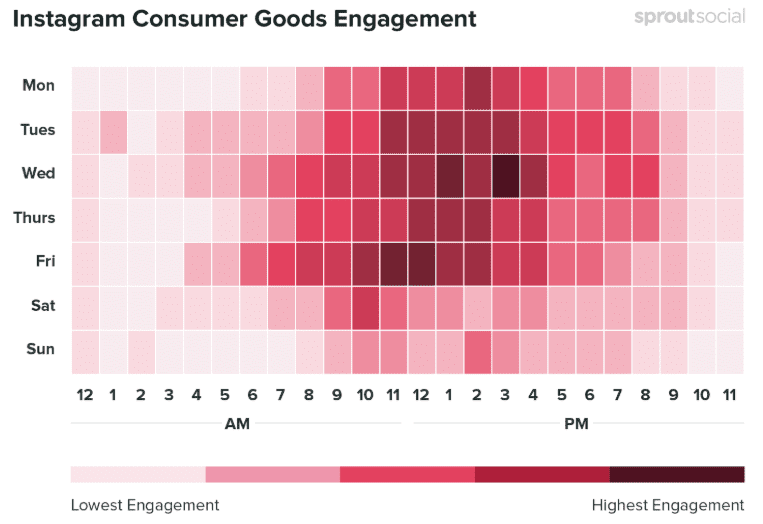 The Best Time to Post on Instagram 
The best time to post is on Wednesday at 3 pm
The best day to post is on Wednesday
The worst day to post is on Sunday
The peak times to earn high engagement or target relatively safe times for engagement happen from Tuesday to Friday, from 11 am to 3 pm.
However, shopping behavior tapers off in the late evening, along with the lowest engagement found daily before 5 am and after 9 pm
It is better to bear in mind the best time, days to post on Instagram because this will make your engagement rates higher plus resulting in interacting with your target audience correctly.