Since the outbreak of COVID-19 and online shopping has increased due to the lockdowns worldwide. Not only that but also the consumer's behavior has changed since the COVID-19 outbreak.
Without further ado, let's check some eCommerce insights and the online consumer spending from Q1 2021 to Q2 2021.
eCommerce Insights: 26% of Consumers Say Their Online Spending Will Stay The Same Or Decrease
The following charts show the online consumer spending in Q1 and Q2 in 2021, starting with Q1 2021: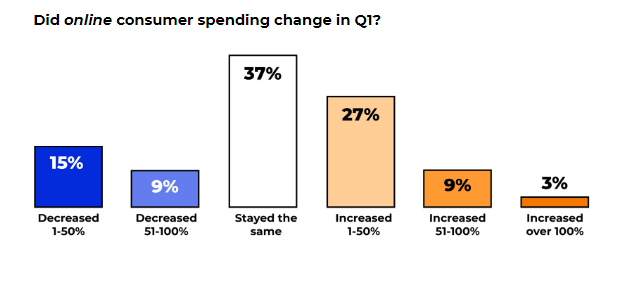 Consumers say their online spending has increased.
Moreover, 24% say spending decreased.
As well as 37% say spending stayed the same.
39% say spending increased.
Not only that but also there was a 6% increase in the percentage of consumers who said their spending stayed the same.
Additionally, while overall spending trends are mostly consistent with spending trends late in 2020, the amount of consumers who have increased their online spending is higher – a 5% increase since
this time period.
Download the consumer trends 2021 report here.
On the other hand, here is the chart of online consumer spending change in Q2: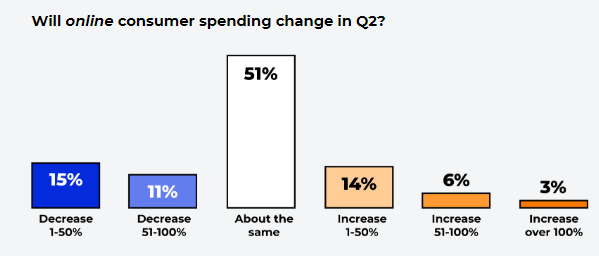 According to the eCommerce insights 2021, most consumers said they expect their online spending to stay the same or decrease during Q2 (April through June 2021).
26% say spending will decrease.
As well as 51% say spending will stay the same.
In addition to 23% say spending will increase.
61% of Consumers Use a Personal Computer to Shop Online:
According to eCommerce insights, 63% of consumers shop online weekly or more often. Here's a chart that shows the top devices consumers use to shop online: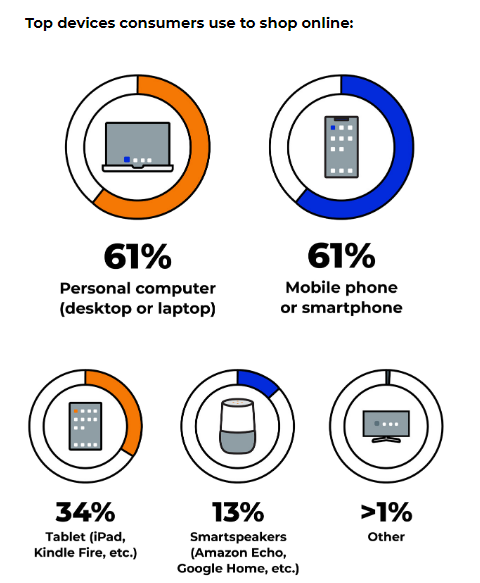 According to the chart, 61% use a personal computer as well as a mobile phone or smartphone.
On the other hand, 34% use Tablets.
In addition to 13% who use Smart speakers.
and only less than 1% use other devices.
Know more about the consumer trends insights in 2021 here.