Instagram, that incredibly amazing social media platform, has a wide base audience worldwide. Of course, we talk with numbers, let's take a look at 2021. There were 1.21 billion monthly active Instagram users worldwide and that makes up over 28% of the world's internet users.
There's a prediction that by 2025, there will be 1.44 billion monthly active Instagram users, which would account for 31.2% of global internet users.
Instagram target audience research should be one of the first things on the list when developing an Instagram strategy.
No matter what industry you work in, it pays to build a presence on Instagram. But if you really want to get ahead, you need to know the platform and your audience, including what kinds of content resonate most, build an Instagram stories strategy, and track your metrics and KPIs.
Let's take a look at Instagram users worldwide and Instagram users by country in 2022…
Instagram Users WorldWide 2020 to 2025: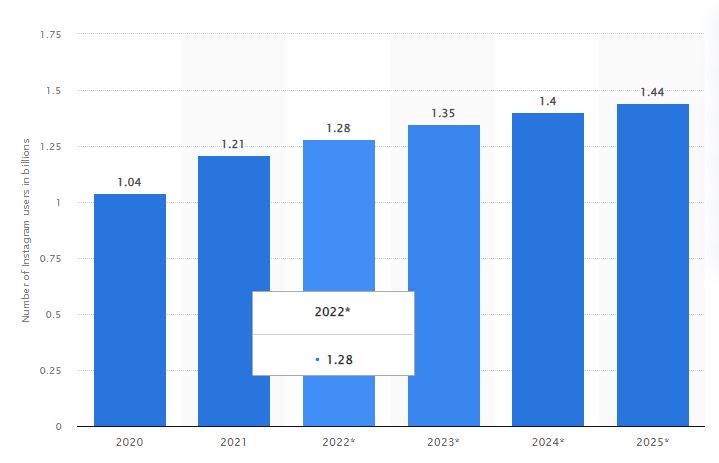 According to Statista, As of September 2021, Gen Z users in the US spent an average of five hours per week on Instagram.
Even though Instagram ranked third in terms of hours per week spent on the platform, Gen Z users spent considerably more time on TikTok, amounting to a weekly average of over 10 hours being spent on the mobile-first video app.
Related Tool: Manage your social media platform now with Fanpage Karma.
Here are Instagram users by country: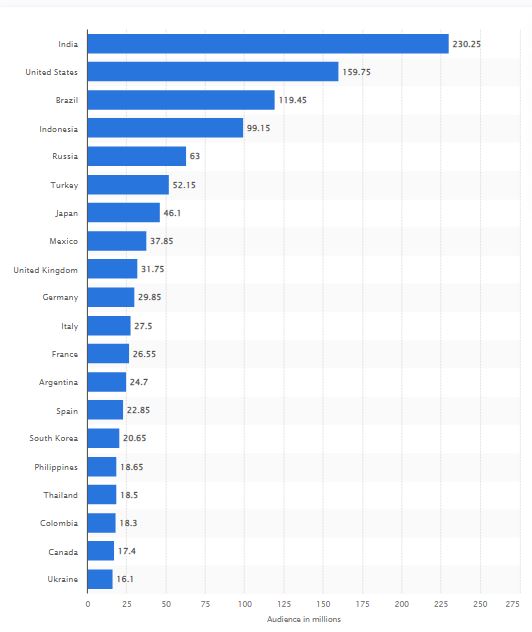 According to the Instagram users by country, in January 2022, India had a total of 230.25 million Instagram users, this is the widest base of an audience for Instagram users in the world.
The US had 159.75 million users, and Brazil had 119.45 million.
On the other hand, Indonesia, Russia, and Turkey ranked in fourth, fifth, and sixth positions, respectively.
However, based on the Instagram users by country chat, Brunei is the leading country for Instagram audience reach, with 92% of the population using the social media service.
Guam, came in second, with a penetration rate of 79.2 % and the Cayman Islands ranked third, with 78.8 %, followed so close by Kazakhstan, Iceland as well as Montenegro.
Generate more leads and build awareness with GetResponse now!

Instagram Users Audience Overview, 2019
The total Instagram active users reached over 894.9 million in 2019.
It's the leading photo-sharing app for more than 500 million users, and more than 300 million users are considered to be influential.
The percentage of adults that can be reached with adverts on Instagram is 15%.
The quarter-on-quarter growth in Instagram advertising reach is +4.4%.
Females are more likely to be advertising audiences on Instagram than males (50.3% versus 49.7%).
It is worth to be mentioned that, the US owns the largest number of Instagram active users.
Integrate your business with other powerful technologies with Adobe Campaign now.
Check the Top Instagram Users by Country in 2019:
The United States is ranked as the top country with a total of 110 million Instagram active users and a 34% penetration rate.
Brazil comes in second place with 57 million active Instagram users and has a 27% penetration rate.
Indonesia comes next with 53 million and a 20% penetration rate.
India holds 52 million active Instagram users only a 4% penetration rate.
Turkey has 33 million Instagram users 41% penetration rate.
Create a powerful profile for your audience so you can identify your most valuable segments and use them across any digital channel with Adobe Audience Manager.
The Highest Instagram Penetration by Country:
More about Instagram users by country, Brunei Darussalam, the country with only 210 thousand active users on Instagram, is ranked in first place with the highest Instagram penetration rate of 49%, followed by Sweden in the second place with penetration rates of 47% with 4.7 million active users.
Spite that the United States is ranked as the largest country with active users on Instagram, it has the lowest penetration rate of 34%, compared to the third-highest penetration rate country Aruba with a rate of 46% and 4.7 million active users.