COVID-19 has an impact on everything around us, starting with industries and economy to the content consumers engaging with. In addition to that, media consumption has been increasing lately due to the lockdown.
Amid the current circumstances, IAS wanted to know and understand the attitudes of US internet users towards coronavirus ads adjacency and how\if consumers are changing their online content consumption habits.
In order to do that and get these results, IAS ran a quick response online survey to determine consumer perceptions concerning coronavirus content. The survey was run in March 2020, with the participation of 1,042 US internet users whose age range varies from 18 to 60 years old.
Keep on reading for further information…
Related Study: COVID-19: How Businesses are Handling the Crisis Report
Coronavirus Ads Adjacency 2020—Top-Line Findings
If a brand's ad appeared next to Coronavirus content, how does it change your sentiment toward that brand/product?
The study shows that 16% of people reported that they feel less favorable toward brands with ads adjacent to COVID-19 content.
On the other hand, 78% of people mentioned that their sentiment toward the brand is unchanged.
22% say that it is unsuitable for a brand to appear near Coronavirus content.
32% say that suitability depends on the brand.
Online Content Consumption Amid COVID-19
As we can see the COVID-19 pandemic is shifting content consumption patterns, the results below shows that:
As reported, there are 88% of people who were surveyed say that the COVID-19 situation is changing the types of content that they consume online.
On the other hand, there are 58% of people who are actively looking out for news and content online which is related to COVID-19.
Of course, the situation is evolving and people need to keep up with the updates of the ongoing events, therefore, as we can see there is 59% are consuming more news generally due to the continuous coronavirus situation.
Ad Categories That Have Great Risk for COVID-19 Content Adjacency
Amid the ongoing crisis, consumers reported what types of industries they do not want to see their ads adjacent to COVID-19 content. The chart below explains it all.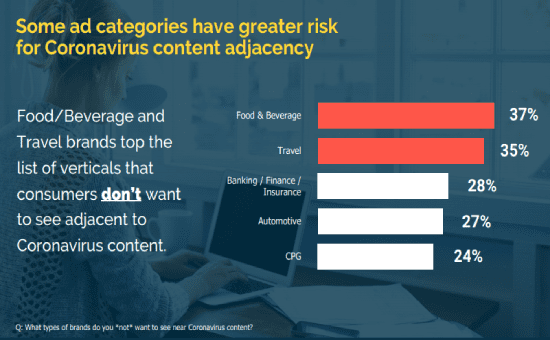 As obvious, Food\Beverage and Travel brands top the list of the ads consumers do not want to see adjacent to COVID-19 content.
The highest percentage goes to Food and beverage with 37%.
Followed by, Travel with 35%.
On the other hand, Banking\Finance\Insurance came in third place with 28%.
Automotive with 27% which is super close to Banking\Finance\Insurance.
Finally, CPG with 24%.
Related Study: COVID-19 Crisis Communication
The Table of Content of "Coronavirus Ad Adjacency Report 2020":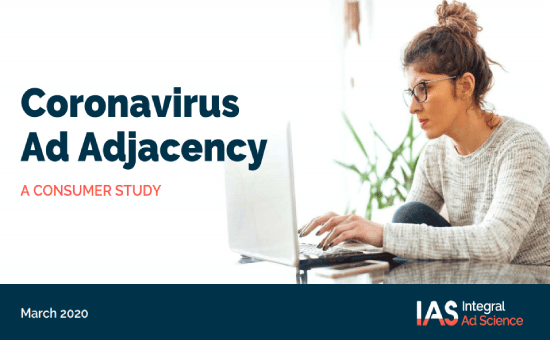 Introduction
The Coronavirus situation is shifting content consumption patterns
A lot of Coronavirus news is ad-supported and there are mixed behavior and perception related to these ads
Some ad categories have a greater risk for Coronavirus content adjacency
Other ad categories are perceived as favorable matches for Coronavirus adjacency
Key takeaways
Number of Pages:
Pricing:
Methodology:
Data in the "Coronavirus Ads Adjacency" consumer research was driven from an online survey of 1,042 US internet users. The respondents' age rank are as follows:
18 – 29: n=256
30 – 44: n=242
45 – 60: n=351
> 60: n=193