Email is known to be the most measurable and effective channel as long as it is set up properly. Many people might think that creating high-performing emails is easy but it is not, it takes resources and time.
So, what does the ideal email workflow look like? No need to worry about it, the answer is within this report, so keep on reading for further information about email workflows.
Email Workflows: Production Cycles and Time Allocation
First things first, almost every email marketer has been asked whether they can "send another email" however, it is not that simple.
The email production process takes time due to many reasons such as company size, team size, and many other factors.
It is reported that 53% of brands take almost 2 weeks or more just to produce an email. It is expected, of course, if you work on a bigger team, the average production time will be longer.
The following chart explains "The bigger the team, the more emails are in production at any given time"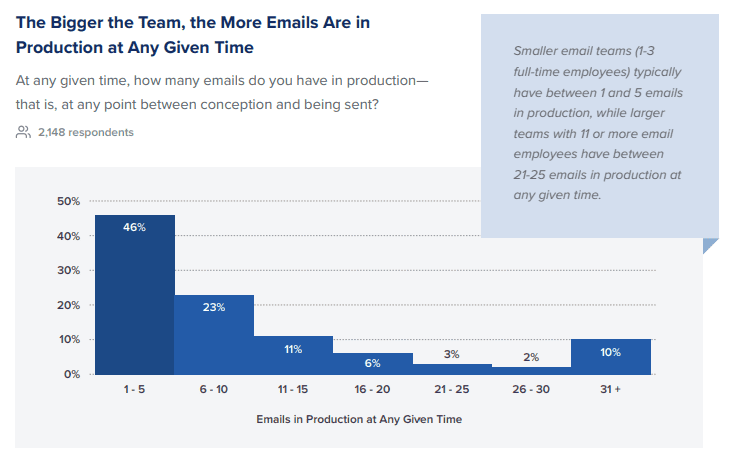 Additionally, there are many tasks you do while sending an email such as designing, coding, and reviewing. Longer teams spend 2+ more hours on every facet of email production than small or medium-sized teams.
Therefore, the chart below shows the percentage of the time spent on each task.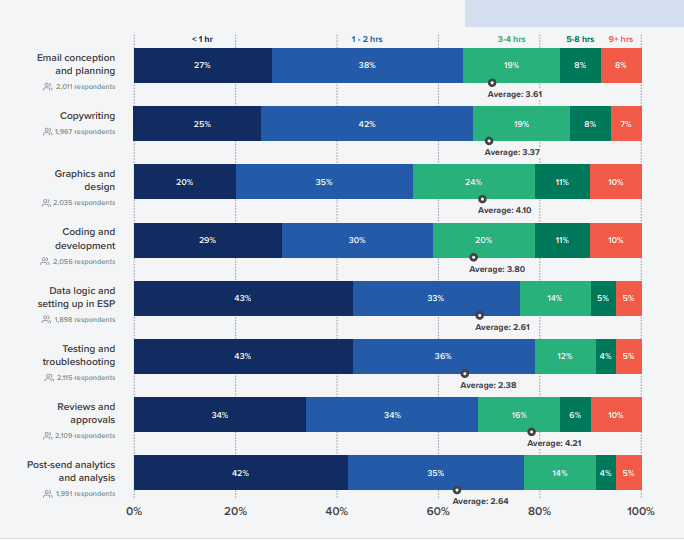 A\B Testing
For those who might not consider A\B testing in their strategies, they should think again.
A\B testing presents different versions of the same email to two subscriber groups, and it is one of the most powerful opportunities for email marketers to improve their campaigns.
However, a surprising amount of brands don't actually take advantage of the power of A\B testing. According to the survey, there are 37% who say that they never test their broadcast besides their segmented emails.
According to the email workflows survey, it is reported that 30% of brands add A\B tests to at least half of their broadcast and segmented emails.
The following chart explains it all,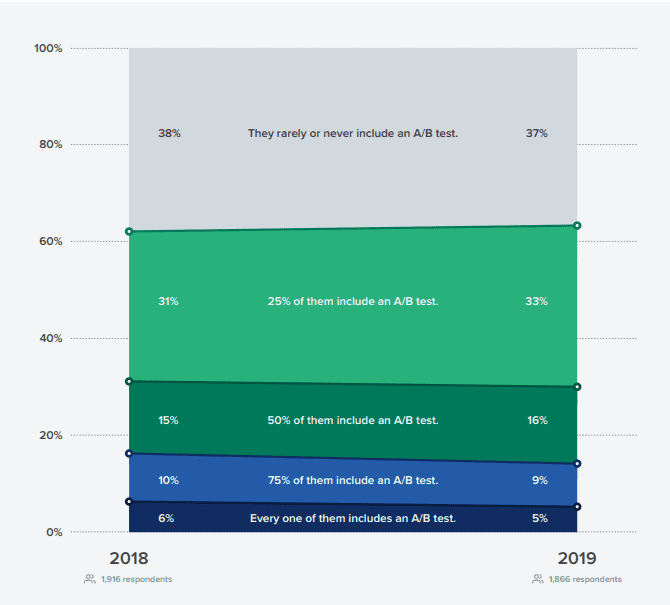 The Table of Content of " 2019 State of Email Workflows Report":
Production cycles and time allocation
Pre-Send preparation
Content planning
A\B testing
Email design
Email desig& approvals
ESP usage
Post send analysis
Email analytics
Deliverability monitoring
Perform across your marketing channels
Number of Pages:
Pricing:
Methodology:
In our fourth annual State of Email Workflows report, we take a detailed look at how marketers plan campaigns, handle crucial pre-send processes—including email design, coding, testing, and approvals—analyze campaigns post-send, and ultimately use the insights gained to strengthen other marketing channels.
Use the results to benchmark your own process and identify opportunities for improvement, as well as leverage this report's findings as evidence to make a compelling argument for more resources or process changes in your company. All of this is made possible by the 3,000+ marketers who generously took the time to take our 2019 State of Email Surveys and share their insights with the industry.