It is important to highlight those social media ads are the perfect method to boost any brand visibility on Facebook and Instagram, however, it is also a field that has evolved significantly during the past years.
Without further ado, let's go through this Facebook Ads report and answer some questions about the effectiveness of social media ad campaigns.
Facebook Ads Study:
It is reported that ad spending is expected to show an annual growth rate of 7.6%.
However, in order to create effective campaigns, you need to understand how to use different ad creative types to your advantage and when to juggle between Facebook, Messenger, Instagram, and Audience Network.
According to this Facebook ads report, Facebook is the platform with the most ads (45.2% of ads), the highest average CPM ($5.82), and the highest CTR – a staggering 3.90% -, while the CTRs on Instagram, Audience Network, and Messenger fall under 1%.
Also, Instagram ads have the highest average CPC – $0.98.
On the other hand, video and share ads also have the highest ad spend: $157.15 video ad spend and $146.16 share ad spend.
Most Common Campaign Objectives in Facebook Ads:
So the first step in placing a social media ad is to choose your campaign objectives. However, there are quite a few options, from metric goals like reach, clicks, engagement, to broader objectives such as store visits or brand awareness.
It is reported that the primary scope of most Facebook ads is to obtain conversions (26.94% of ads). Anyhow, 24.19% of ads are aiming for post engagement, along with 22.64% are looking for link clicks.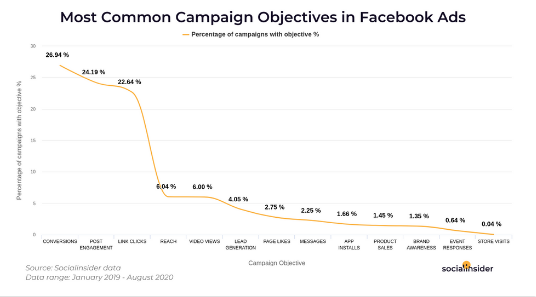 According to the chart, brand awareness, event responses, and store visits seem to be less popular objectives, as ads with one of these three aims make up only 2.03% of the total.
Facebook Has the Most Ads and The Highest CTR
Based on the Facebook ads report, when it comes to choosing a social media ad placement, most brands prefer to simply place it on Facebook (45.2% of ads) and Instagram (35.6%), however, they rarely choose to place their ads on Messenger (10.4% ads) or Audience Network (8.9%).
The following chart explains the percentage of Facebook ads on each placement;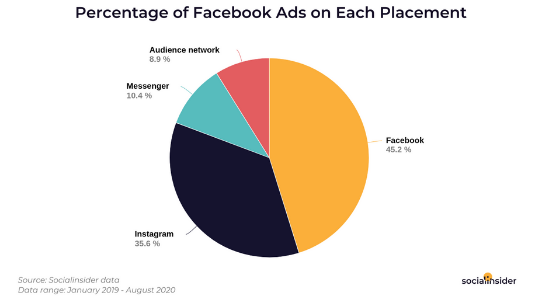 Moreover, through Ads Manager, once you've chosen your campaign objective, you have the option of choosing where to place your ad.
Your objective can influence your placement options, however, the typical choices are:
Facebook
Instagram
Messenger
Audience Network
Make sure to check the full Facebook ads report here.
What's in The "Facebook Ads Study" Report: 
Facebook Advertising Study
A. Summary
B. Key Insights
C. Methodology
Number of Pages:
Pricing:
Methodology:
The study was created on a data pool of 250,162 Facebook ads, published between January 2019 and August 2020, from a total of 3,887 ad accounts.
The accounts are part of a global geographical distribution: 36.09% of ads from Europe, 32.74% ads in North America, 23.35% ads in Asia, 4.79% of ads in South America, 2.62% of ads in Australia and New Zealand, and 0.41% of ads in Africa.