"The key drivers of consumer behavior have traditionally been value, convenience, and experience. Looking ahead, brands and retailers need to also consider choice, purpose, and privacy if they are to earn their customers' loyalty" says Paul Martin, Head of Retail, KPMG in the UK
There are many definitions of the tern "Customer Loyalty", however, it is the result of consistently positive emotional experience, physical attribute-based satisfaction, and seen value of an experience that involves the product or services.
Check the new KPMG report to successfully target next-generation consumers.
A Quick Glance of the World's Customer Loyalty
Only 8% of the world's consumers describe themselves as "brand loyalists".
On the other hand, 46% of respondents mentioned that they were more likely to try a new brand than they were five years ago.
Acquiring customers is more expensive than maintaining them. It is proven that when a consumer is loyal to a brand 86% will recommend it and this is a result of the importance of word of mouth because it is a compelling marketing proposition.
However, 46% will stay loyal even after a bad experience.
52% of the consumers surveyed say that they will buy a favorite brand even if it is cheaper and more convenient to buy a rival product is a further proof that loyalty endures.
66% said that they are likely to write a positive online review.
The chart below shows the percentage of consumers who make purchases that earn rewards\benefits at least several times a week.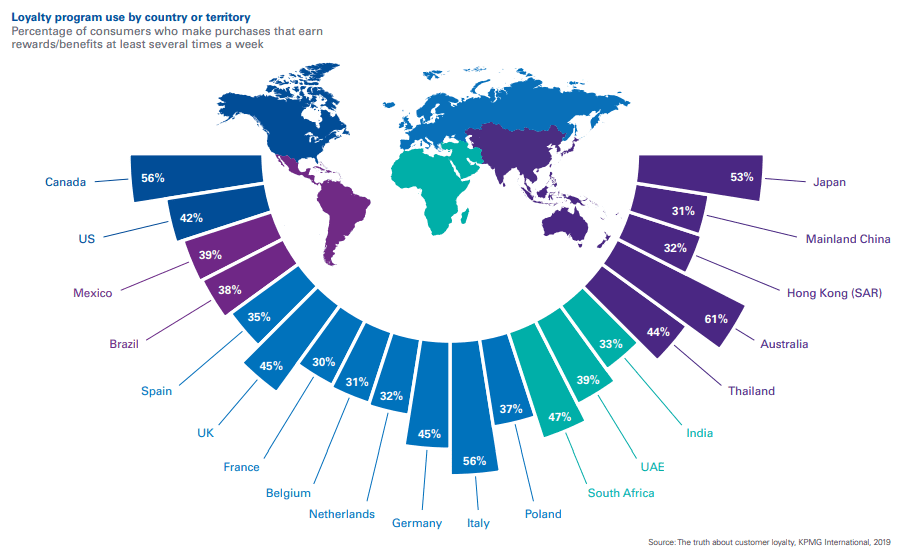 Australia tops the list with a high percentage of 61%.
Followed by Italy and Canada which share the same percentage with 56%.
Japan comes after them with a percentage of 53%.
On the other hand, the countries which have the least percentages are:
The Netherlands and Hong Kong (SAR) with 32%.
Belgium and Mainland China with a percentage of 31%.
France was the least with 30%.
What Keeps Consumers Loyal to Their Favorite Product Brands
"If you're trying to build brand loyalty today, an emotional connection is no longer a nice-to-have, it's a need -to- have" says René Vader, Global Sector Leader, Consumer & Retail, KPMG International.
We always ask what keeps a consumer loyal to their favorite brand no matter what, based on this survey, respondents said what are the things that keep them loyal to their favorite brand.
The majority which is 74% said it is product quality.
66% said it is value for money.
65% said it is the product consistency which is ( size, taste, quality, etc,)
56% said it is customer service.
55% said it is the easy shopping experience (shopping, check out, returns)
55% also said it is the selection\ product assortment.
54% said it is the pricing.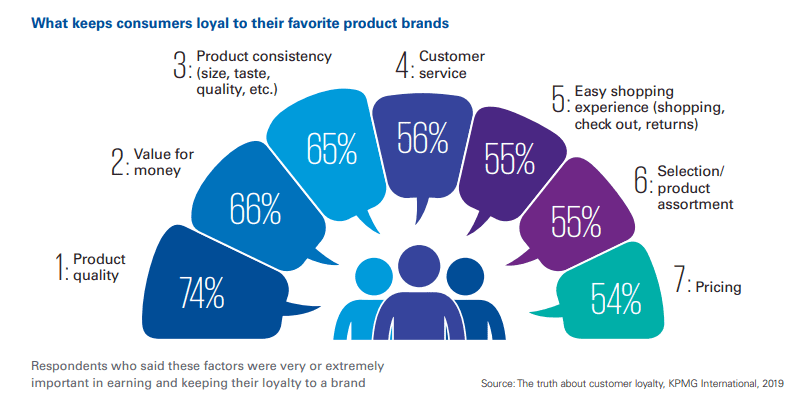 The Table of Content of " The Truth About Customer Loyalty 2020" Report:
How customers define loyalty
What inspires loyalty
The paradox of personalization
The truth about Millennials
Why loyalty programs need reinventing
About the survey
Actionable insights
How KMPG can help
Contacts
Number of Pages:
Pricing:
Methodology:
Data in this report was driven from an online survey of 18,520 consumers was conducted in more than 20 countries on their thoughts around consumer loyalty. The survey was conducted in September and October 2019.
The sample was comprised of 4% Generation Z (born after 1999); 41% Millennials (born 1982-1999); 33% Generation X (born 1965-1981); 17% Baby Boomers (born 1946-1964); and 4% Silent Generation (born 1925-1945).
Questions about the purchase of alcoholic beverages were asked only to respondents over the age of 25.