We are living on the day of modern technology, so no wonder, that nowadays the internet is considered to be a huge part of human life. We use it daily to connect with people all over the globe, to know the latest world news and to get new information.
Social media also is highly integrated into our lives, and many platforms are taken quite seriously by huge corporations. People want to popularize their internet space, which they often use to promote their work, but they don't know how to start properly.
If you are one of those people, this "Top 5" maybe and will be helpful.
Related Article: 7 Simple Ways That Will Surely Lower Your Facebook Ad Cost This 2020
5 Tips to Make Social Media Revenue in 14 Days
1. Recognize the People
After you have decided on the topic your platform is about, you should think about the people, who will definitely follow you. Some people try to be overachievers and to reach everyone, but having a defined audience definitely will help you. Except for specifying your content, it will be easy to make some promotion decisions, and companies or people, who want to buy an ad on your platform, will be likely to do so.
They will know, what kind of people you reach with your content, and if it is profitable for them. Determine your audience's age, sex, preferences and maybe even location, so that way you will have the knowledge of your target audience.
2. Not Only Your Brand
At first, it may sound absurd, but only promoting your product will be less profitable, than talking about the general topic. The best way to advertise your own brand is to correctly integrate it into your posts talking about the issue, which is connected to the general idea of your platform.
Otherwise, people will subconsciously feel manipulated to make a purchase, which will draw the conclusion you do not want your followers to have. "Why should I trust this blog, if their obvious and only reason is to earn money from me?" You don't want that to happen, so don't be straight forward asking to buy something from you.
3. Build a Relationship with your Audience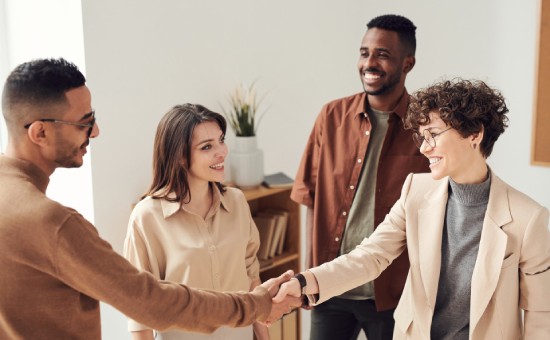 It is crucial, if not obligatory, to build a proper relationship with your followers. The second way of getting profit from your social media (except for getting advertisement offers) is to sell your own product, and who will buy it? Exactly!
Your audience is one of the main sources of income, so it is crucial to make them trust you and your brand. Answering questions, addressing the comments and just communicating, in general, will help you to make your image better, so your platform will appear "more human" to people.
Of course, it is very exhausting to answer every single comment on every social media, but you should do as much as you can. Some services like InfluX may help you achieve a great friendship with your subscribers.  Engage your future customers to connect with you and to come back to your page.
Related Guide: A Guide to Social Customer Care on Twitter
4. Collab with Others
It is important to consider the opportunity of collaborating with other people because that way you will not only reach a new, fresh audience and gain followers. You will prove to be a person with serious intentions and who is ready to cooperate in the future.
5. Proper Visuals
Some people tend to brush over it, but it is proved to be a huge part of your posts. The first thing someone scrolling through a social media will see and will build an impression of your platform is an image. A picture, an art, a video – it does not really matter.
The visual aspect will be the strongest influence and either will grab their attention or won't be attractive enough to click on your page and stimulate further interest. We are living in a world of visuals, so you really have to compete for the customer's approval by putting effort into your images.
Related Guide: How to Create Great Visual Experiences Anywhere
Final Word
Promoting your product is undeniably crucial for your business, and the easiest way to do so is through social media, which you have to use wisely in order to get the maximum profit possible.