Teens in the US are sticky to social media. The use of social media by teens has risen steadily in recent decades and has been largely a 'south to north' phenomenon. Today, nearly half (51%) of US teens, who ages 13 to 17, indicated that they use Facebook, notably lower than the shares who use YouTube, Instagram or Snapchat.
Take a sneak peek at the top line findings of using social media by American teens in 2018:
YouTube is the most popular social media platform among teens in the US with a rate of 85%, followed by Instagram (72%), Snapchat (69%) and then Facebook (51%).
Fully 95% of teens have access to a smartphone, and 45% say they are online 'almost constantly'.
88% of teens reported having access to a desktop or laptop computer at home.
31% of teens described the effect of social media on their life as mostly positive, while 24% described it as mostly negative, but the largest share (45%) says that effect has been neither positive nor negative.
In terms of online gaming, 84% of teens said they have or have access to a game console at home, and 90% say they play video games of any kind (whether on a computer, game console or cell phone).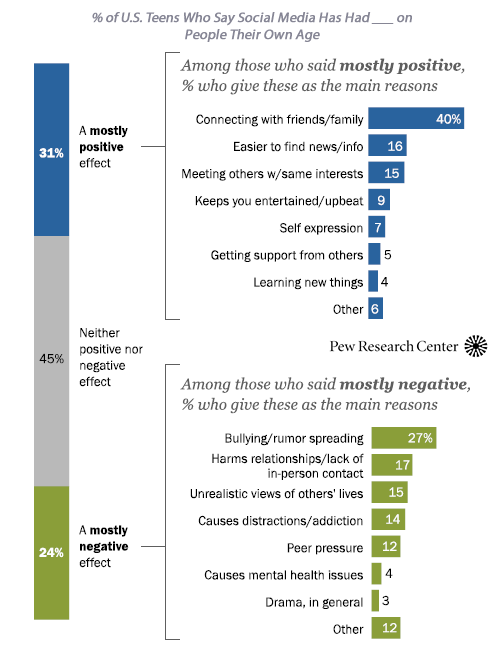 Methodology:
Data were driven from 1,058 parents who have a teen ages 13 to 17, as well as 743 teens. The surveys were conducted online and by telephone from March 7 to April 10, 2018.
The margin of sampling error is plus or minus 5.0 percentage points for the full sample of 743 teen respondents and 4.5 percentage points for the full sample of 1,058 parent respondents.